About Us

Sharing beauty, best choice – "fashion type" of import expo Release date: 2018-11-10
Source:Xinhua
The pursuit of beauty never stops, and the Chinese market is becoming the hub of more and more international fashion brands. The products from all over the world such as beauty makeup and skin-care products, fashion clothes, fashion shoes, suitcases and bags have appeared at the first China International Import Expo, sharing the most popular "beauty secrets" of the moment, almost bringing "fashion week" onto the Expo stands.
On Nov.6, LEGO Group launched its latest new product at the Import Expo - a set of toys inspired by the traditional Chinese Lunar New Year. This set will hit the local market on January 1 next year. The launch has attracted many purchasing groups, crowding the LEGO booth.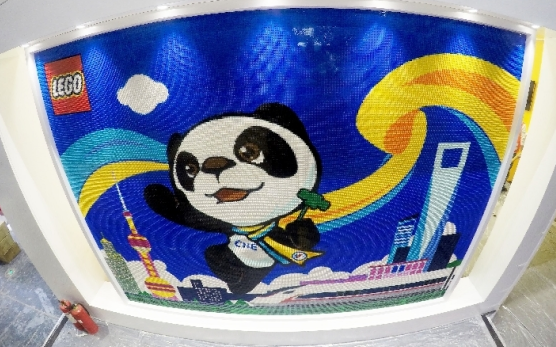 This is a LEGO building block wall featuring Jinbao, the mascot of the first China International Import Expo -- Photo by Xinhua News Agency reporter
There are many such remarkable exhibits in the Apparel, Accessories & Consumer Goods exhibition area.
Elsewhere, the Robotics shows "make-up with eyes closed" at the Expo; the 3D facial mask, which can be professionally customized according to different skin types, facial contours and needs, have attracted a large number of visitors.
The pair of high-heeled shoes decorated with white and pink diamonds all over become the focus of many people on a pink-colored wall. The booth of Gènavant, a British luxury brand, can be said to be extremely dreamy, winning a lot of wows and wonders. The high-heels are designed by renowned Chinese designer Jimmy Choo and his step-son business partner Reggie Hung, waiting for a "Cinderella" that can put her feet rightly in them. "We expect that the world can see our fine design and the craftsmanship spirit cultivated by us through the Import Expo", Jimmy Choo said.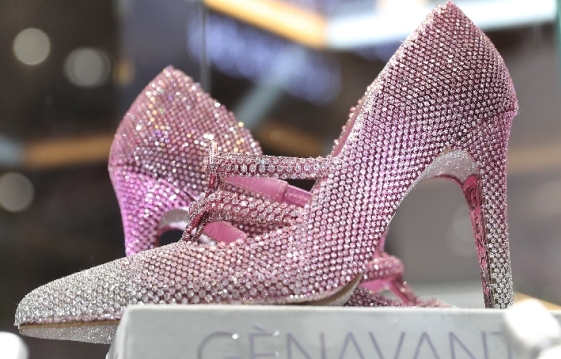 The white and pink diamond high-heels exhibited by British luxury brand Gènavant
L'Oreal, the world's largest cosmetics group, brought 21 brands and more than 500 products and technologies. And many of the products are first shown to the Chinese public through the Import Expo.
L'Oreal China CEO Stephane Rinderknech said the Chinese market is experiencing a golden age of consumption upgrades. "In recent years, more and more brands and products have entered the Chinese market. At the same time, China's middle-income group has grown substantially, which constitutes the consumption main force. More and more consumers are turning from practical consumption to enjoyment consumption, such as cosmetic products, and more inclined to high-end, personalized, and minoritizing brands and products with service premium, which is a huge opportunity for L'Oreal."
In order to seize such opportunities, L'Oreal has signed a contract to participate in the 2nd Import Expo on Nov.6, and was selected as the vice chair on the China International Import Expo Exhibitors Alliance, and will continue to increase its development in China.
An active and healthy lifestyle has also become a fashion. In the Medical Equipment & Health Care Products exhibition area, many exhibitors provided visitors with intuitive, in-depth and easy access to relevant health products through various forms such as presentations, explanations and interactive experiences. Herbalife exhibited more than 50 overseas best-selling health products with different tastes and functions, which could meet the health needs of different people in terms of weight management, nutrition, energy, exercise and other aspects. It also specially set up a number of sports and somatosensory interactive experience zones. "Through the physical interaction of football and the experience of energy consumption, we can effectively convey the fashion lifestyle of 'nutrition + sports'," said Zheng Qunyi, president of Herbalife China.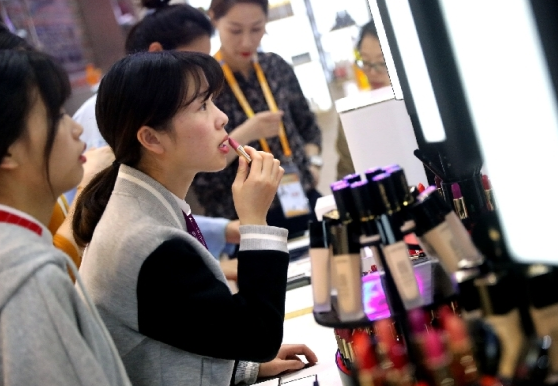 Visitors try cosmetics on at L'Oreal Group's booth. Photo by Chen Fei from Xinhua News Agency
Through interviews, reporters have found that in the face of many fashion products, buyers "rub their fists and wipe their palms" one after another. Suning is expected to introduce more than 1,000 kinds of imported products not yet sold in the domestic market and is locating these products from the expo. In Suning's latest procurement plan for 2018 to 2020, global procurement is expected to reach 10 billion euros, which means Suning will invest more in overseas brands in areas like luxury goods, clothing and accessories, and consumer goods.
Little Red Book, a platform for sharing life, is a member of Import Expo Shanghai Trading Group. "During the expo, we will work with many import brands to sign contracts." Little Red Book's partner Zeng Xiulian said, "While hoping to usher in more world goods, on the other hand, it will help more global brands understand the latest consumption trends and the latest life culture in China and better enter the Chinese consumer market, which is full of opportunities."
According to the BoF and McKinsey's "Global Fashion Business Report 2018", the focus of the global fashion market has been shifting eastward. The Asia-Pacific region has become one of the most important parts of the world's fashion industry, with an online clothing market in Asia alone expected to reach $1.4 trillion by 2020. Among them, Chinese market has become an important stage for global fashion industry.
"These changes due to the 40 years of reform and opening up have given Chinese consumers greater spending power, and these overseas companies see China's huge consumer market and economic potential," said Yang Yixiong, a professor at the School of Fashion and Art Design at Donghua University. The proportion of retail sales of consumer goods in China's GDP rose from about 30% a decade ago to about 44% in 2017. In the future, under the guidance of the policy of expanding domestic demand, its proportion will continue to rise.
---