About Us

Samsung launches new products in CIIE Release date: 2018-11-10
Source:Xinhua
A winter rain did not reduce the enthusiasm of the exhibitors. On November 7, the China International Import Expo continued to be held in full swing at the National Exhibition and Convention Center (Shanghai).
In the Consumer Electronics & Appliances exhibition area, the UHD Samsung 130-inch IF series LED digital signage is refreshing and attracts many exhibitors. This is Samsung's HDR-enabled products based on LED technology development with the characteristics of ultra high definition and easy operation. Compared to existing LED digital signage which can only be set on the back of the product, the product can be set up and operated on both the front and back sides.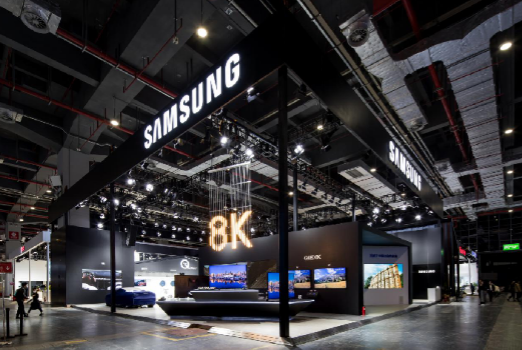 Samsung Booth
In this area, Samsung also exhibited the world's star product launched at the end of August this year for the first time in China, that is, QK 8K series TV with 8K artificial intelligence enhancement technology and peak brightness up to 4,000 nits. With Real 8K resolution, this product is equipped with Q HDR 8K technology and 8K quantum processor, and the built-in AI chip can intelligently optimize the output image. Whether through streaming media, set-top boxes, HDMI, USB wiring or even mobile terminal for push-to-play viewing, users can enjoy an intelligent and lively audiovisual experience.
In the vehicle interconnection exhibition area, Samsung showed its vehicle digital driving device - Digital Cockpit. The device is an intelligent platform that extends the IoT concept to cars. Through multi-directional connection and integration, the digital cockpit can provide more convenient and efficient driving information, which not only greatly enhances the safety factor of the car, but also further changes people's driving style and experience.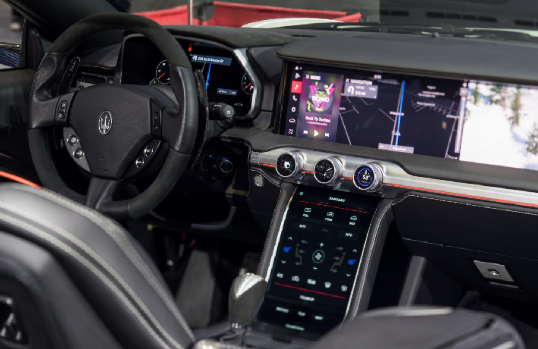 Samsung Vehicle Digital Driving Device
Meanwhile, Samsung exhibited the world's first 5G communication chip Exynos Modem 5100 for the first time in China in August. The product is manufactured by 10nm LPP process, and is the first baseband product fully compatible with 3GPP Release 15 specification in the industry, namely the latest 5G NR new radio interface protocol, supporting devices to connect 2G, 3G, 4G and 5G networks with a single chip.
Of course, Samsung mobile phones are still the most popular, and the innovative new products released by Samsung globally in 2018 are found in the exhibition: Galaxy Note9, Galaxy Watch, Galaxy S9, Galaxy S9+, Galaxy A9s, etc. As the flagship product of Samsung, Galaxy Note9 has attracted wide attention since its release. The design of the full visual curved screen, the application of AI technology and the improvement and innovation of the S Pen function are very impressive. The exhibition attracts many attendees to experience and interact.
---