About Us

French beef appears at import expo, and visitors line up to taste Release date: 2018-11-10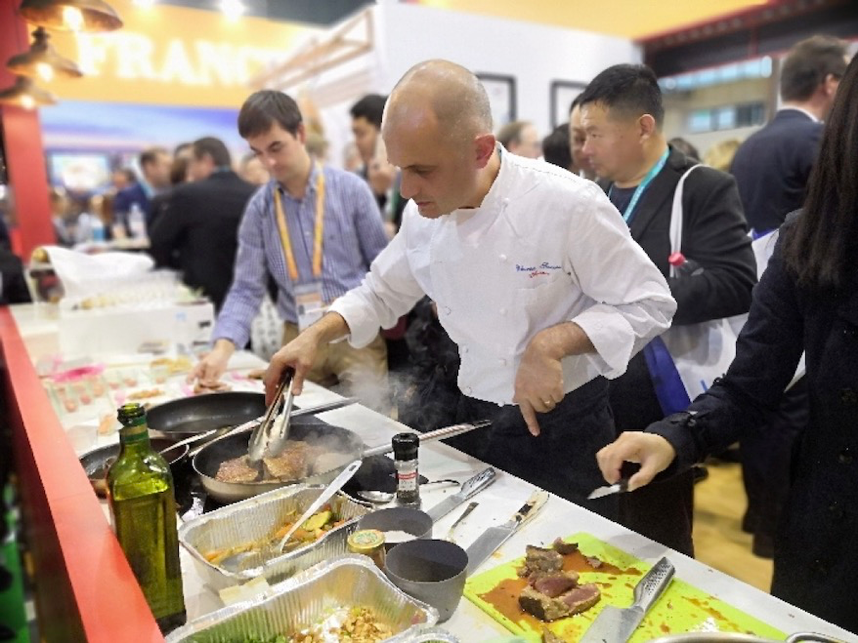 Bake the fleshy beef without tendons and membranes in a pan. The scent is overflowing after cooking. And add a special mustard sauce and spicy spices. The great delicacy is finally made. In the food and agricultural product exhibition area of the China International Import Expo, a booth of French meat shop attracted delicacy lovers to hang around.
At noon on the 6th, the INAPORC and INTERBEV booth was crowded with the visitors in order to taste the first French beef that had re-entered China after many years.
French beef was officially approved for export to China in July this year. The "first show" beef at the Import Expo was brought by two companies that have been approved.
"This time the beef brought to China is not the normal one." French Agriculture Minister Didier Guillaume promoted French beef at the booth.
According to his introduction, the beef cattle are naturally farmed outdoors, fed with natural pastures, without any developmental hormones and antibiotics. "After farming in the natural environment, you can get the tenderest and most delicious meat," he said.
A field staff told reporters that the main breed of 60 kg of chilled beef brought this time was Charolais, which is pure white and is said to be the best beef cattle in France.
France is a famous beef producing country. According to data from the French Agricultural Sector, the French beef production in 2017 was 1.5 million tons, among which 220,000 tons was exported to 40 countries and regions around the world.
The sirloin, tenderloin, and front blade muscle cooked by chef are most popular among Chinese consumers. A purchaser from Jiangsu couldn't wait to taste it after lining up to get the beef. He said: "The beef meat is soft and just melt in the mouth. I hope I can often eat such delicious beef."
"French beef will return to China and be sold in the Alibaba e-commerce platform." Guillaume told the visitors who were eager to eat that "China and France are big food countries, and the Chinese and French have a good desire to taste food."
In recent years, Chinese residents have an increasing demand for beef, and beef imports have soared. China has jumped to become the world's second largest beef importer.
For the escalating Chinese consumer market, Guillaume said France has the world's strictest regulatory mechanism in the public health field and will continue to improve food and health safety standards. We hope that more French slaughter enterprises will be approved in the future and further expand cooperation with China in the trade of meat products.
A director of INAPORC and INTERBEV told reporters that the Chinese e-commerce brands are rich and he hopes to promote French beef through the Internet to meet the different needs of Chinese consumers.
---