About Us

U.S. police patrol boats eye-catching at CIIE Release date: 2018-11-09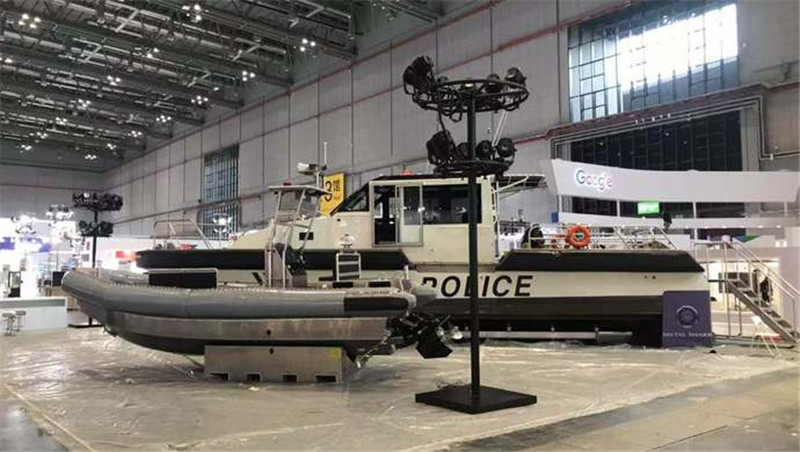 Three American police patrol speedboats have arrived at the China International Import Expo on flat-bed trucks, from the U.S. State of Louisiana. They are to be particularly eye-catching among various machine tools and industrial robots in the High-end Intelligent Equipment Hall in Shanghai.
A representative of speedboat manufacturer, Metal Shark, explains that two of the patrol boats are of the Defiant-class high-speed boats measuring 13.7 meters and 11.5 meters in length respectively. They are meant for near-shore blockade, security and law enforcement patrols, search and rescue missions and firefighting operation. The third, a 6.5-meter fast boat to set out from a mother boat, is for law-enforcing, search and rescue, and personnel transport missions.
According to Metal Shark representative Ge Songtao, these three police boats are made in accordance with military standards, so far as their welding, wiring, piping and equipping are concerned. They are built to withstand extreme elements at sea and to facilitate tactical operations and high-intensity confrontation.
These three police patrol boats are making their China mainland debut as is their manufacturer Metal Shark.
Ge explains that the American company has a history of more than 30 years in designing and manufacturing customized boats and ships, focusing on small battle ships and police patrol boats. With leading technology in the trade, Metal Shark has delivered nearly 600 boats to more than 20 countries in the past three years.
The American company now set its eyes through the CIIE on an expanding opportunity for its products to enter the Chinese mainland market.
"If a company wants to enter a new market, it is always a good idea to promote its products through influential platforms and the Import Expo is such a platform," says Ge.
The Metal Shark representative discloses that three Chinese importers have demonstrated interest in these patrol boats even before CIIE opens. One of the trio has already started procurement process. The U.S. company is expecting all three boats will be sold at the import expo, without having the firm to transport them back to the United States.
---