About Us

New energy motor vehicles draw CIIE limelight Release date: 2018-11-09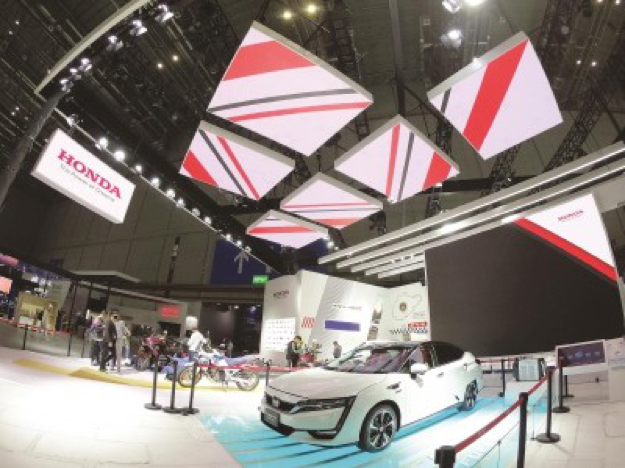 The 2018 models of automobiles on display at the ongoing CIIE are already more advanced compared with their predecessors at the 2010 World Expo. Both are held in China's Shanghai. Eight years of development have brought human beings closer to the 2010 vision of zero emission, zero traffic accident and slight reliance on fossil fuels for the year 2030.
Some of these envisaged automobiles are already tangible realities at the CIIE, including some new-energy cars.
The concept of this ongoing CIIE is that automobiles are not just ways of transport, but they represent new ways of life as well with unlimited possibilities.
Toyota, Honda and Hyundai have all highlighted their latest models running on hydrogen fuel cells. The newer generation of such cells has demonstrated the future of clean automobiles which charges on H and discharges H2O.
At the Honda booth, there are not only its Clarity hydrogen fuel cell-driven cars, but also its small-and-smart hydrogen producing and charging facilities as well as a hydrogen-electricity converter.
It takes three minutes to re-charge Clarity just like the time taken to refuel cars with fossil fuels.
Hyundai is demonstrating its hydrogen fuel cell-driven cars of Nexo. This company has signed China's Tsinghua University Industrial Development Research Institute to jointly set up a hydrogen energy fund which will invest in innovative enterprises researching and developing hydrogen energy.
Volvo has brought along its latest new energy cars in seven models, highlighting its XC90 three-seater which just hit the overseas market. This new model can sacrifice the co-pilot seat by turning it into the leg-rest for the passenger on its back seat.
XC90 is equipped with Volvo's latest auto-pilot auxiliary system which is making China debut.
Volvo Asia-Pacific regional corporate communication vice president Zhao Qin says: XC90's added value is that it offers its drivers and passengers not only driving ease but also riding comfort. The company is trying to fathom the responses of Chinese car lovers with the CIIE demonstration.
In future, auto-pilot, interconnectivity and digitized technology will become the standard specs of automobiles.
BMW has taken to the import expo its 7-Series cars which are armed with 4-level auto-pilot technologies. This series is also the latest prototype of its unmanned auto-drive cars.
At the Ford booth, visitors can try hands-on through VR with the car-maker's interconnectivity in telecommunications application which provides drivers with safer and easier in-drive communications with family and friends.
Toyota has a bigger ambition. Its open platform helps incorporate customers' requirement and demand. Just like downloading apps into smartphones, Toyota cars will in future download customized sub-systems to their like into their vehicles. These apps range from clothing, feeding, travelling and dwelling.
Toyota Motor at CIIE reiterates its development motto of "electricized, intelligent and interconnected".
---