About Us

CIIE brings new mission, TÜV Rheinland China managing director says Release date: 2018-11-05
Source:Yicai Global
Today's guest:
Mr. Lutz Frankholz, Managing Director at TÜV Rheinland China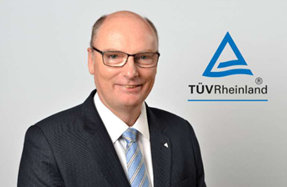 CIIE brings us new mission -- serving import trade
Q: The first China International Import Expo (CIIE) is the world's first import-themed exhibition, what is your understanding of the 'uniqueness' of this expo? You certainly attend many industrial exhibitions in a year. Why did you decide to attend the import expo?
A: Compared with other trade fairs we attend, this is an import -oriented one, which also brings us new themes. As a third-party testing and certification professional service organization with global influence, our 'roots' in China are serving the export trade and helping Chinese enterprises go global.
While this import expo brings us a new mission to serve the import trade and provide professional services in quality and safety for Chinese buyers' overseas procurement. We are very willing to build a two-way service bridging the 'going out' and 'bringing in' of Chinese firms.
Our other feeling is that this import expo is highly focused on buyers and sellers, and we also are benefiting from the multiple matchmaking events before the exhibition which the organizer is holding to promote deals between buyers and sellers. During the process of interaction, we feel the organizer's sincerity in serving the exhibitors.
China's first import expo is a major move to firmly support trade liberalization and take the initiative to open its market to the world. It will build a new platform for all parties to enter the Chinese market. TÜV Rheinland China claims the number two spot in sales among all regions. Thus, we have great confidence in the expo and the sustainable and healthy development of China's economy.
Q: How about the scale of TÜV Rheinland's participation in the expo? What new testing technologies do you bring to the exhibition? What is the biggest highlight?
A: TÜV Rheinland will be on display at the exhibition area for firms headquartered in Germany. Cutting-edge services that will be highlighted include the new energy sector (electricity, photovoltaic, wind power), Industry 4.0 (artificial intelligence, robot, intelligent manufacturing, information security), the rail transit sector (high-speed rail, urban rail, maglev, etc.), the auto sector (autonomous driving, shared services, functional safety and charging piles), consumer electronics (self-service store, eye safety), enterprise sustainable development (environment, occupational health and safety management system, green and environmental products and services).
Among those sectors, the biggest bright spot is the Industry 4.0, a concept advocated by the German government and widely accepted by Chinese industry. At present, Chinese firms are marching towards Industry 4.0 to catch up with the global trend, but most firms do not know enough about Industry 4.0, and Chinese firms urgently need to understand their road map for achieving Industry 4.0.
Given there is no standard and specification for reference available in the world, TÜV Rheinland researched and developed relevant standards to provide a benchmark and prospect for Chinese firm's journey toward Industry 4.0 based on the status quo of Chinese industry and the foreseeable future. This standard is a global pioneer.
Q: Having developed in the Chinese market for many years, could you please share with us some specific cases where you have helped transform and upgrade Chinese manufacturing?
A: With the increasingly fierce competition in the global home appliance market, consumer demand for 'smart, energy-saving and performance products is also constantly growing. This trend is forcing a 'quality revolution' in Chinese home appliances. Our years of technical expertise and first-hand information on standards in overseas markets provide strong guidance and support for transforming and upgrading the household appliance industry and competition in the international market.
For example, as the world's first smart phone safe quick charging certification solution which far exceeds international standards, our solution verifies and tests each process related to charging safety, comprehensively verifies electrical safety, charging speed, charging compatibility and environmental conditions and covering tests in five areas such as chargers, wires, integrated circuits, batteries and terminals. Relying on a lot of technical innovation and systematic designs, as well as perfect manufacturing processes, many domestic mobile phone brands have passed the safety and quick charging certification of Germany's Rheinland TÜV.
Q: 2018 is the 40th year of China's reform and opening up, Could you tell me something about your experience in the Chinese market?
A: TÜV Rheinland initially entered China in 1989 when the first decade of reform and opening up had ended. The first batch of products we tested were very simple in structure, but now, after 30 years of the development of Chinese manufacturing, we have tested ever more products, which are more innovative and of higher quality. Therefore, we can say that we have witnessed the development of Chinese manufacturing in one sense.
Meanwhile, we have also witnessed the continuous development of China's testing, inspection and certification sectors over past 30 years. In the 1990s, only state-owned labs qualified to provide services for the Chinese market, but nowadays we see a more open environment in which state-owned labs, foreign-funded labs and private labs compete equally.
In addition, we are glad to see that with the active efforts of the Chinese government, China's safety and quality standards are also gradually gearing to international standards, and China is actively signing widely recognized standards agreements with overseas enterprises.
For now, Chinese firms are actively participating in the construction of the Belt and Road initiative, and the trouble they may confront is that exporting to different countries requires certification from various countries, which is time and energy-consuming for the expansion of Chinese firms. As a company with global resources, we really hope to cooperate with the Chinese government to play a more active role in facilitating the integration of regional standards and even global ones.
---