About Us

Deloitte showcases global innovation practices to boost companies' digital transformation Release date: 2018-11-02
Today's guest:
Zeng Shunfu, chief executive of Deloitte China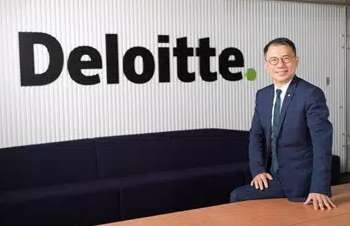 Q: What is the theme of Deloitte's presentation at this import expo?
A: We feel very honored and full of expectations that Deloitte, with a history of more than 100 years, has the opportunity to present itself on the stage of the first China International Import Expo. At this year's import fair, Deloitte will showcase dozens of cutting-edge solutions that it developed in the fields of artificial intelligence, cloud computing and big-data analytics, under the theme of "The Digital Difference". We hope to share Deloitte's achievements in global innovation and empower Chinese companies to make them bigger and stronger.
Q: Why has Deloitte chosen this theme?
A: In this digital age of rapid change, Deloitte, as a leader in professional services, has always advocated a pioneering digital corporate culture and has made innovation one of its global corporate strategies. Therefore, we chose "The Digital Difference" as our theme and hope to show how Deloitte is exploring and achieving exponential value growth through the transformation and reform of "Daring to think, daring to do, and daring to do first". At the same time, this theme also shows Deloitte's unique advisory capability as a professional services organization and helps clients fit and lead the trend for innovation in the digital world.
Q: In Deloitte's view, how can companies grasp the opportunities of the digital transformation? What products or technologies can they use?
A: Deloitte focuses on current hot topics, such as artificial intelligence, the Industry 4.0, and financial technology, and we will fully present our philosophy of excellence, innovative practice and solutions. These ideas and solutions will be displayed at the import fair.
For example, the increasing maturity of artificial intelligence technology and the driving force of the Industry 4.0 have accelerated the transformation and upgrading of companies. Based on this topic, Deloitte will present solutions such as "The Fourth Report" and the "Smart Manufacturing Cube". Among them, the report can establish an analysis system for enterprise value, covering three dimensions — users, products and channels — and providing enterprises with more insights.
For another example, Deloitte has its own way of thinking about the trend of the financial industry. At present, the emergence of financial technology has been reshaping the global financial services towards collaboration, and emerging technologies are poised for development, spawning cross-border and cross-industry ecosystems. Based on this topic, Deloitte will showcase solutions such as the anti-money laundering robot and "TraceChain" to improve the efficiency and enhance the reliability of financial services.
Moreover, with the increasing popularity of internet, all sectors of the community are paying more and more attention to cyber security. Deloitte also wants to establish effective tools to safeguard companies' most sensitive information assets. We will showcase solutions such as the "Intelligence Center for Cyber Security" and the "Assessment and Planning of the Security of the Internet of Vehicles" to reduce the risks from cyberspace.
In addition, we are also concerned about new technologies such as artificial intelligence and new retail—new terminology that is now very popular in China. We believe that a variety of forces, such as robotics, artificial intelligence, the zero-employment economy, and crowdsourcing models, will strongly promote the development of "enhanced labor".
All walks of life must examine the future work model and structure from a new perspective. We will showcase solutions such as the "Deloitte Robot" and the "Intelligent Conference System". For example, Deloitte robot can mimic human operations so as to support efficient business processes.
In terms of new retail, more and more consumer goods and retail companies are upgrading their goods production, distribution and sales through the application of advanced technologies such as big data and artificial intelligence, and the deep integration of online services, the offline experience and modern logistics. To cope with this trend, Deloitte will showcase solutions such as "Network Planning Tool" and "Mark Down".
In addition, achieving a balanced development of the economy, technology and society is a common topic among countries all over the world. Governments around the world have introduced smart city policies and launched innovative solutions to promote urban planning. Therefore, we will also display representative solutions such as our "Deloitte Digital Control Center" and "Analysis Tool for Real-time Traffic Starting and Ending Points" to make city management efficient and convenient.
Q: What are Deloitte's expectations for the Expo?
A: Besides showing relevant solutions, one of our aspirations is to accelerate the implementation of these innovations. Deloitte will use the innovation acceleration model of the "Speed Set" to better understand the world's cutting-edge technologies and launch a variety of innovative solutions to foster the implementation and application of relevant solutions through incubation projects.
At the same time, we want to seize the opportunity of the first import expo to actively promote services and products and expand business opportunities. We hope to fully present Deloitte's global concepts for excellence, innovative practices and solutions, to show our service advantages, and to help more clients experience the innovation and transformation.
Q: Do you think Deloitte's wishes can be realized through the expo?
A: Yes. First of all, this import expo is the first import-themed exposition in the world. It is an important measure for China to firmly support trade liberalization and open its market to the world. It is also of great significance to building a new platform for all parties to enter the Chinese market. Exhibitors and buyers have all attached great importance to the exposition.
At the same time, we believe that the expo will help promote business cooperation and that this cooperation is not just limited to suppliers and buyers. Exhibitors, governments and buyers can use this import fair to exchange ideas, promoting economic and trade cooperation among countries and regions and world economic growth.
Q: What does Deloitte think of the idea of making an expo that never ends?
A: Alhough the CIIE will only last for six days, its influence will not come to an end. Deloitte hopes to participate in the one-stop trading platform, the "6 days + 365 days", of the CIIE to give full play to our advantages and provide professional services for the platform.
In fact, as China's continuously expanding its market to the outside world, creating a better business environment, and actively expanding its imports, more and more companies demand professional services. As one of the largest professional services organizations in the world, Deloitte has a worldwide professional service network covering more than 150 countries and regions. We have professional service teams in local areas, which can help clients grasp the tide of informatization and digitization, enabling Chinese companies to transform and transcend on their way to the world stage.
---