News Center

CIIE Story • Why Choose CIIE | Maui upbeat about China's sheep milk market Release date: 2023-08-28
Source:China International Import Expo Bureau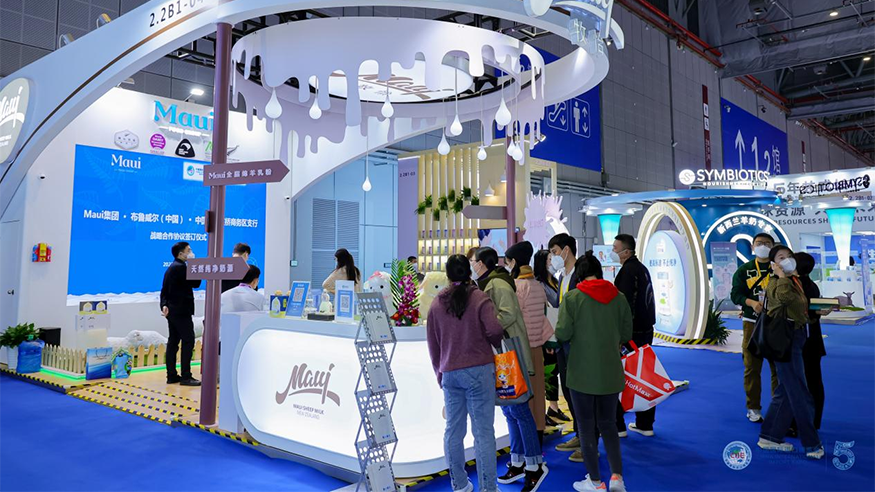 The booth of Maui at the fifth China International Import Expo in 2022 in Shanghai. [Photo/CIIE Bureau]

Maui, a sheep milk company from New Zealand, has reaped fruitful results in Chinese market through the China International Import Expo (CIIE), and is still upbeat about the industry's prospects in the nation.
Maui has been participating in the expo since 2018. As the only diary company specialized in sheep milk that year, Maui successfully captured Chinese consumers with its unique products.
After attending the fourth edition of the expo, Maui saw its product sales grow 15 percent year-on-year.
"The demand for good products in China is much more than we have expected, and the CIIE has indeed brought us benefits. Our sales have grown far more than our expectations after we attended the expo," said Steve Farrelly, the company's sales and marketing manager.
In 2022, instead of sharing a booth with other New Zealand exhibitors like the past four editions, Maui set up its own exhibition booth at the fifth edition of the expo and raked in an intended transaction amount of over 100 million yuan ($13.74 million).
China's dairy consumption is in great potential, providing a vast market for global dairy makers. Over the past five editions of the CIIE, Maui has reached cooperation with global companies such as Danone's Karicare, Yashily, and big companies from Shanghai, Hebei and Inner Mongolia.

At the fourth CIIE in 2021, Maui signed a strategic cooperation agreement with Shanghai's SunMoon Food Company, and this marked the start of Maui's further expansion in China. During the signing ceremony, Clare Fearnley, New Zealand's former ambassador to China, said she was glad to see New Zealand's exhibitors work with Chinese companies to explore the nation's sheep milk market.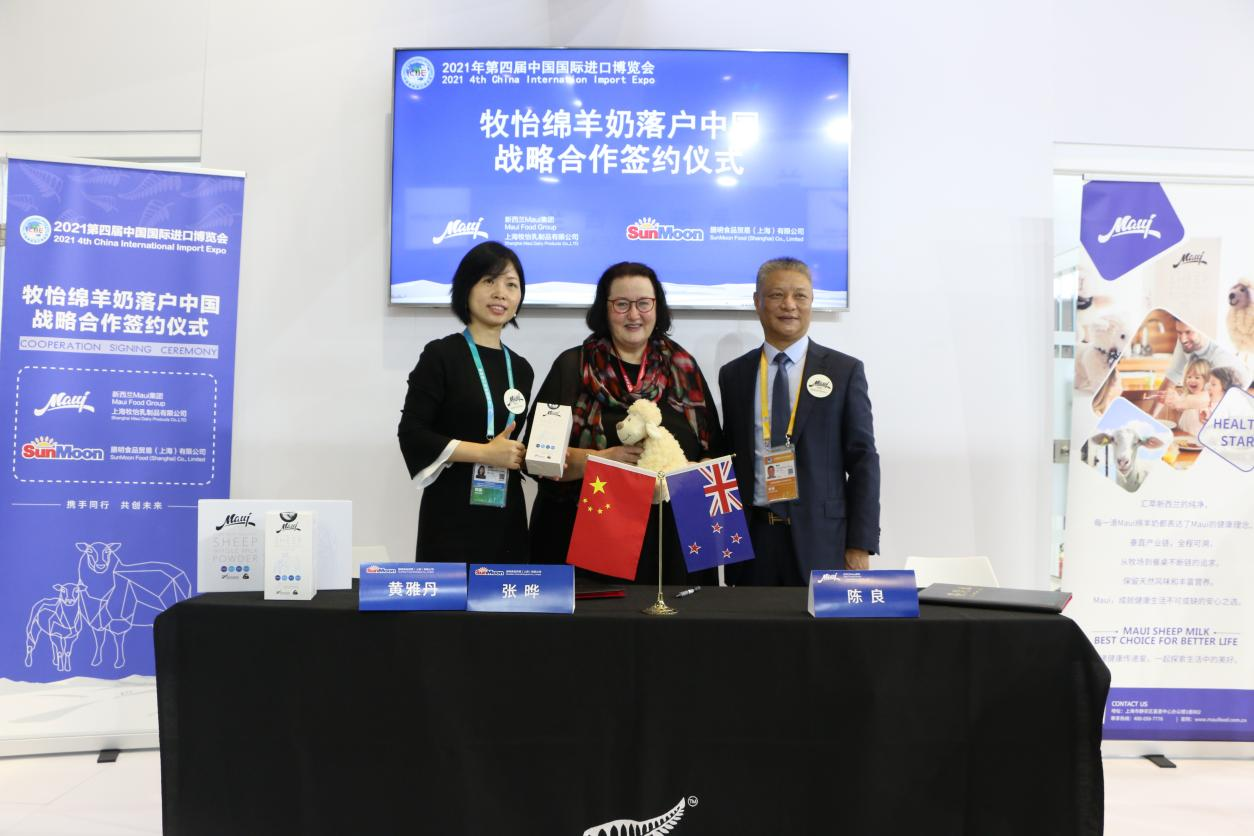 Maui signs a strategic cooperation agreement with SunMoon (Shanghai) Food Company at the fourth China International Import Expo in 2021 in Shanghai. [Photo/CIIE Bureau]
"Through the CIIE, we will work with more partners in the Chinese market and aim to make sheep milk products more popular among consumers," said Natalie Dang, Maui's managing director.
Maui is now planning to set up R&D centers in China and make the most of its advantages throughout the industrial chain to provide Chinese consumers with more high-quality sheep milk products.
Looking ahead, Maui will continue to take part in the sixth CIIE this November. Dang believes that there will be more and more companies that will seize development opportunities in the Chinese market with the help of the CIIE.
By Zhao Guangmei
Qin Jiao from chinadaily.com.cn contributed to the story.
---