News Center

Chinese pharma firms keep global supply chain ticking Release date: 2020-03-24
Source:China Daily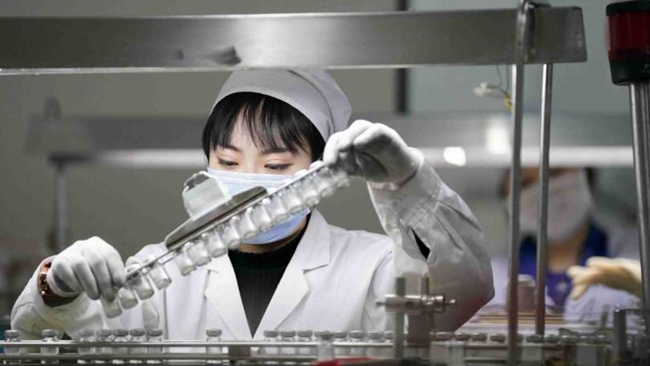 Amid challenges brought by COVID-19, China's pharmaceutical industrial chain remains competitive and resilient, playing an integral part in continuously bringing stability to the global healthcare ecosystem, industry experts said.
Currently, 60 percent of active pharmaceutical ingredients (APIs) around the globe are produced in China, said Paul Hudson, chief executive officer of Sanofi.
The US-China Economic and Security Review Commission estimated that China and India manufacture 80 percent of the world's APIs, including various active compounds used to treat bacterial infections, cancer, heart disease and diabetes.
Mariangela Simao, World Health Organization assistant director-general for access to medicines, vaccines and pharmaceuticals, said that currently there has been no indication that basic medical supplies have been affected by the pandemic.
Because of the anticipated work break during the Chinese Spring Festival, many pharmaceutical companies had stocked up on goods for two to four months before the holiday, which turned out to be a rainy-day preparation for the unexpected novel coronavirus outbreak, Simao said.
In addition, although some drug producers were located in Hubei, other manufacturing bases in China-such as Shanghai-were only slightly impacted by the epidemic, she said.
"China is a major raw materials supplier for pharmaceuticals around the world. In these difficult times, it's extremely important for our industry to maintain an unbroken supply chain so front-line healthcare providers always have access to the high-quality medicines they depend on," said Chris Ewer, vice-president of Janssen Supply Chain Asia-Pacific.
As one of the Janssen Pharmaceutical Companies of Johnson & Johnson, the company -whose headquarters is in Beijing and factory is in Xi'an, Shaanxi Province-said it is proud that its supply reliability has been maintained with no pharmaceutical shortages during this special period.
"Working in close cooperation with Chinese authorities at several levels, as well as with airfreight carriers and other logistics partners, our supply chain made swift operational adjustments to get back to business-as-usual as soon as possible," Ewer said.
Asgar Rangoonwala, president of Xi'an Janssen Pharmaceutical and chairman of the executive committee of the Research & Development-based Pharmaceutical Association Committee, said that multinational pharmaceutical corporations are confident in the resilience of China's healthcare ecosystem and its ability to win the fight against COVID-19.
Rangoonwala said the epidemic's impact on China-based pharmaceutical MNCs' production capacity is minor, and the situation has been kept under control. Before the outbreak, business contingency plans were already in place to handle unexpected scenarios, with measures including storing emergency stocks at distribution centers outside high-risk areas, as well as collaborating with external suppliers.
He said that the pandemic has underlined the importance of developing a resilient and sustainable healthcare ecosystem that should be embedded with key components such as pharmaceutical innovation, high drug quality and supply sustainability.
Li Xingqian, head of the Ministry of Commerce's Department of Foreign Trade, said that China is an integral link in the global supply chain of many MNCs. The pandemic's effects on the supply chains of foreign trade were local, limited and totally controllable.
Li said that China owns the world's largest, most complete and comprehensive manufacturing system, and the advantages of the system are irreplaceable. China's foreign trade development has sufficient resilience, ample room for development and strong innovation capability.
"This long-term positive trend will not change, neither will China's position in the global industrial chain," Li added.
Foreign Ministry spokesman Geng Shuang said that the international community is bullish on the resilience of China's industrial chain. At present, there has been no large-scale transfer of the industrial chain from China to other regions due to the pandemic.
With the recent improvement of China's contagion prevention and control situation, leading enterprises in key industries, including foreign enterprises, have resumed work and production, providing support and guarantees maintaining the stability and safety of the global industrial supply chain, he said.
On March 5, the US Trade Representative announced they would exempt import tariffs on at least 100 medical items imported from China, including medical gowns and surgical masks.
"It turns out that in order to deal with the coronavirus crisis that we think originated in China, China makes all the equipment you need in order to deal with it," J. Stapleton Roy, a veteran diplomat in Washington, told China Daily.
Cecilia Qi, general manager of GSK China concerning pharma and vaccines, said, "We commend the efforts of the Chinese authorities in fighting COVID-19, including the rapid and highly-coordinated nature of response, which appears to have helped protect against a larger scale epidemic both across China and beyond at this stage."
"As the World Health Organization has said, there would have been many more cases and deaths outside China by now, if it were not for the China's efforts. We believe any impact will be temporary and we look forward to playing our part in this fight by providing innovative medicines, vaccines and healthcare products that improve the health of tens of millions of people today, and by shaping the future of healthcare tomorrow," Qi said.
---