News Center

Manufacturers vying to keep up with orders Release date: 2020-03-24
Source:China Daily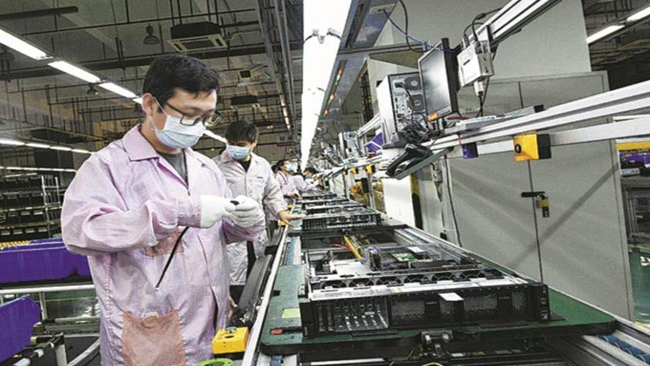 Liu Chuchun and his team have been busier than ever for more than a month. Like millions of people involved in the manufacturing sector in China, they are facing the unprecedented challenges of resuming work while strengthening efforts to prevent further infections amid the novel coronavirus outbreak.
As head of Lenovo Group Ltd's plant in Shenzhen, Guangdong Province, Liu is in charge of restarting production as soon as possible so that the plant's personal computers and servers can continue being exported to over 170 countries and regions on schedule. Lenovo is the world's largest PC maker, and its Shenzhen plant is at the forefront of maintaining the company's global supply chain. The efforts by Lenovo to restart production while ensuring the health and safety of its employees offer a glimpse into the resilience of Chinese manufacturing.
"After hard work, we hit full capacity earlier this month," Liu said. Currently, about 4,000 workers are assembling components at the Shenzhen plant, with products supplied to more than 100 multinationals including US tech heavyweights Microsoft and IBM, France's La Poste as well as Japanese automaker Toyota.
Lenovo is among a growing number of Chinese manufacturers that have resumed operations. As markets worry that China-made products may not be able to meet global demand amid the coronavirus outbreak, the central authorities and domestic companies are stepping up efforts to ease such concerns.
As of March 13, with the exception of the hardest-hit Hubei Province, more than 95 percent of large companies across China had resumed normal production and over 80 percent of company employees had returned to work, according to the nation's top industry regulator.
"Currently, companies and related supply chain entities are resuming operations in an orderly manner. The nation's industrial economy is back on track in a positive direction," said Xin Guobin, vice-minister of industry and information technology, at a news conference in Beijing recently.
"More targeted measures will be rolled out to help firms solve problems. We will also step up efforts to collaborate with key industries and related supply chains in different regions to resume operations," he said.
Yang Yuanqing, chairman of Lenovo, said: "The epidemic outbreak will not damage China's leading role in the global supply chain as the country has the world's largest manufacturing system with the most complete industrial chain and supporting facilities."
China is also undergoing a critical stage of moving from a manufacturing powerhouse to a smart-manufacturing center, which will generate more opportunities, Yang said.
To encourage people to return to their jobs, Lenovo has launched several measures. The company purchased anti-epidemic goods including surgical masks and disinfectants, hired buses to bring employees back to work and sought help from other suppliers.
In the face of labor shortages, human resource managers at Lenovo's Shenzhen plant have interviewed as many applicants as possible with the guarantee that the health of both interviewers and interviewees will be protected. On Feb. 23 alone, the plant interviewed more than 600 candidates, twice the average.
Lenovo is just one example of China's move to deal with challenges posed by the deadly virus and maintain the stability of the global supply chain.
China is implementing targeted policies and taking solid action to ensure epidemic prevention while resuming production to meet global supply.
Take the hardest-hit Hubei Province as an example. It is one of the most important vehicle manufacturing bases in the world. The Ministry of Industry and Information Technology has already communicated with the local government to give priority to local automotive companies to make them among the first to resume production.
"With favorable policies, carmakers and other auto sector players in Hubei Province are revving up operations in an orderly manner," Xin said.
Dongfeng Motor Corp. has already resumed work in Hubei. The company's truck factory in Shiyan is now able to produce 200 vehicles per day, while two of its vehicle plants in Wuhan have also resumed operations, he added.
Wuhan-based Dongfeng is the country's third-largest automobile group by sales, and has over 160,000 employees. It has partnerships with international companies like Honda, Nissan, PSA and Renault.
As one of the world's largest suppliers of household appliances, Xinbao Electrical Appliances Holdings Co Ltd, recently received a thanks letter from US company General Electric after it shipped out a batch of OEM products including coffee makers in February. GE praised its on-time delivery.
Located in Foshan, South China's Guangdong Province, Xinbao occupies a 10-percent share in the global OEM product market. Its flagship product, coffee makers, could hit 40 percent in the global market.
Galanz Enterprises Co Ltd, another Foshan-based company and a major microwave producer, has promised to never delay or call off deliveries amid the epidemic.
"No matter how difficult it is, deliveries have to continue because we are responsible to all clients," said Liang Zhaoxian, chairman of Galanz.
To honor its promise, the company resumed production on Feb. 10 after taking a series of unprecedented strict preventive measures, including temperature checks at least twice a day and washing hands six times a day.
To further deal with the shortage of line workers, the company has mobilized more than 160 managerial staff to work on its production line, Liang added.
As the novel coronavirus outbreak begins to come under better control in China, confirmed cases of the virus overseas are rising, which is triggering alarm about the impact on the nation's efforts to restart its sprawling manufacturing industry.
Xin from the ministry said it will affect China's manufacturing industry to some extent, but the impact will be manageable.
"The industry chain is globalized and the novel coronavirus outbreak in the United States and some European countries will affect China's manufacturing industry," Xin said.
If the overseas epidemic is contained soon, it will have a limited impact on Chinese industry, the senior official said, adding that even if it takes a long time for some countries to bring the novel coronavirus under control, the impact will be controllable.
"This is because China has the world's most complete industrial system and the world's largest domestic market. Industrial fundamentals in China also remain good," he said.
---