News Center

Uruguay sets out to deepen ties with China Release date: 2020-03-26
Source:CHINA DAILY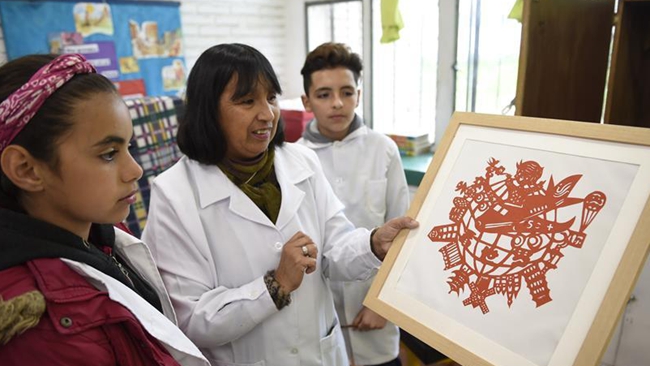 China's relationship with Uruguay is on course to hit fresh highs as a new government in Montevideo looks to deepen economic ties.
Pedro Isern, executive director of CESCOS, a Montevideo-based think tank, said Uruguay's new leadership is expected to look toward China in a range of sectors, including trade, technology and infrastructure.
President Luis Lacalle Pou was sworn in on March 1 as leader of the second-smallest country in South America, after a tight victory in a November runoff election.
"Lacalle Pou won the elections with a different, liberal vision than that of the previous government," said Isern.
Leonardo Martin, a professor at ORT Uruguay University who specializes in international affairs, said the new Foreign Minister Ernesto Talvi Perez has been clear about improving trade links with all parts of the world. "China has become Uruguay's main trading partner, in an exchange that is very intense, especially in beef," he said.
Uruguay is one of the most stable economies in Latin America. It is also a small country that is deeply affected by what happens in its giant neighbors Argentina and Brazil, which are going through difficult economic times.
As a beacon of stability, Uruguay is an attractive option for investors. The country has a population of nearly 4 million. Its middle class, about 60 percent of the population, makes up the largest proportion among all Latin American countries.
The country's per capita income, at almost $16,000 in 2018 (using the current dollar-conversion rate), is much higher than Argentina's $13,000 or Brazil's $9,100, according to World Bank data.
Traditionally, the country's main trading partners had been its two big neighbors but China has eclipsed them, with the a trade volume of $3.4 billion for 2018.
In 2018, Brazil accounted for 12 percent of Uruguay's trade and Argentina 5 percent, but China made up 26 percent of the total. Uruguay accounts for about 22 percent of China's beef imports, with as much as $2.5 billion a year of the country's beef heading there.
Almost half of Uruguay's imports from China comprise electronics, hydrocarbons and cars.
According to official figures, Uruguay has a trade surplus with China of about $6 million, compared with a trade deficit of almost $500 million. That is mainly because sales of beef and soybeans make up about two-thirds of bilateral trade.
Strategic partnership
The two countries signed a strategic partnership agreement in 2016 and Uruguay was the first member of Mercosur-a four-country trade bloc that also includes Argentina, Brazil and Paraguay-to endorse the Belt and Road Initiative.
Because of its small population, Uruguay produces a lot more than it consumes, particularly agricultural products like beef and soybeans. And much of that production now goes to China. Of the 600,000 tons of beef that Uruguay produces, 70 percent is exported.
Uruguay has a lot to gain by expanding its ties with China, exporting more and tapping into Chinese expertise and finance for investment and infrastructure, he said.
With the trade partnership recording steady growth, the next step is expected to be a free trade deal. "A free-trade agreement is on the agenda and I don't think it will be delayed. It's this administration's intention," Martin said.
Another sector of cooperation is technology, and in particular the development of a 5G network.
The two countries signed a sweeping cooperation agreement on 5G technology in mid-2018, a deal that included both governments, technology giant Huawei and engineering schools from both sides.
---