News Center

CIIE Stories | Louis Dreyfus Company says CIIE is a launchpad for success in China Release date: 2021-03-18
Source:China International Import Expo Bureau
EDITOR'S NOTE: It has been three years since the first edition of the China International Import Expo. This series of stories highlights the achievements and changes that participating enterprises have experienced because of the annual expo.
Louis Dreyfus Company, the world's leading agricultural products processing and trade enterprise, has pledged to plough deeper into the Chinese market through the CIIE.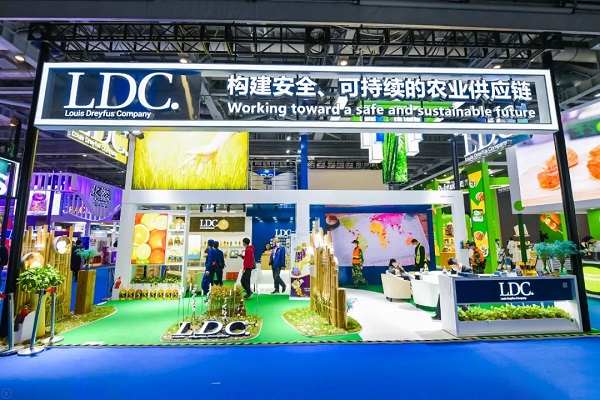 Founded in 1851, the company has participated in the last three editions of the expo. At the inaugural expo in 2018, the company received good feedback after displaying its agricultural products and food such as oil, fruit juice and coffee that were sourced and produced worldwide.
Following this success, Louis Dreyfus Co, like many other foreign companies, decided to release its latest product at the international import event.
At the second expo in 2019, Louis Dreyfus Co launched a new cooking oil brand Mastergold, marking an important step in its efforts to extend its industry chain.
The CIIE plays a vital role in supporting the brand's growth. Due to the expo's spillover effect, the new product saw good sales performance within its first year of entering the Chinese market.
In 2020, Mastergold oil returned to the expo with an upgraded product category that covered more high-end oils, such as rice oil, olive oil, and flaxseed oil. Mastergold is now the company's star product.
In addition, Louis Dreyfus Co signed agricultural products cooperation agreements worth $2.4 billion with partners in China such as China's biggest food trader COFCO and China Grain Reserves Group Ltd (Sinograin).
The company has achieved great sales on China's domestic e-commerce platforms such as JD, Taobao and Pingduoduo.
The company said it will continue to invest in the Chinese market and further explore sales channels and develop partners to provide consumers with safe, reliable and traceable products in more innovative ways.
The CIIE is both a platform for the company to learn about the market trends and a window to showcase its concept of sustainable development, according to Chen Jiayuan, chief executive officer of North Asia of Louis Dreyfus Co.
Louis Dreyfus Co is committed to promoting the concept of safety and sustainable development in the supply chain, and this is reflected in its cultivation of agricultural products such as soybeans and palms. For example, it encourages farmers to grow crops in a more environmentally friendly way, and it transports goods through lower carbon and lower emission shipping channels.
Its concept of building a safe and sustainable agricultural supply chain was also displayed at the CIIE. At the third expo, Louis Dreyfus Co showcased the sustainable development achievements of its eight global business sectors, such as the Rainforest Alliance certification of an orange garden in Brazil.
It also highlighted to visitors a sustainable development project in the agricultural field that explores and practices sustainable development measures for the future. To date, the project is being carried out in 28 cities, with more than 550 small and medium-sized agricultural businesses benefitting from it directly.
The CIIE represents China's firm support for trade liberalization, economic globalization and commitment to opening its market to the world, Louis Dreyfus Co said.
While the expo provides an excellent platform for communication with Chinese consumers, it hopes that the next fair will bring more opportunities and vitality to international economic and trade cooperation.
Enterprises participating in the CIIE can share their stories by sending them to ciiestories@ciie.org
By Wang Hongyi

---