News Center

CIIE Stories | CIIE leads Vorwerk to tangible gains Release date: 2021-03-25
Source:China International Import Expo Bureau
EDITOR'S NOTE: It has been three years since the first edition of the China International Import Expo. This series of stories highlights the achievements and changes that participating enterprises have experienced because of the annual expo.
German manufacturer of household appliances Vorwerk Group said the annual China International Import Expo has significantly helped to enhance its brand exposure, which has in turn boosted its annual sales revenue and connected it with more global partners.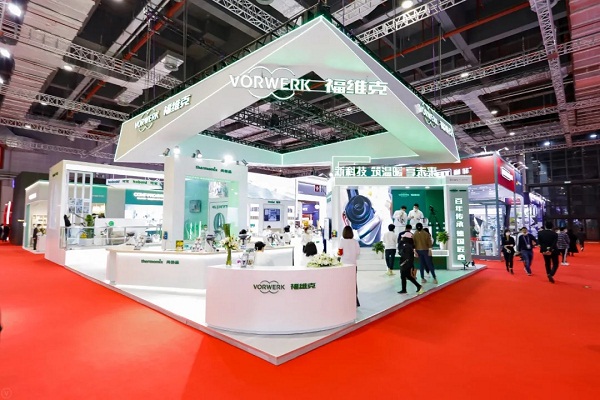 Vorwerk has participated in the annual trade fair for three years in a row since the inaugural edition in 2018. According to the company, online searches for its star products tripled while the growth of its sales revenue hit double digits almost immediately after the 2018 CIIE. In the first quarter of 2019, the sales revenue of Vorwerk in China almost doubled year-on-year.
Vorwerk's participation in the 2019 and 2020 editions of the CIIE were also successful. After the second CIIE, Vorwerk recorded a new high for quarterly sales revenue in 2019.
Zha Sheng, general manager for the Chinese operations of Vorwerk Group, said the company has become better known among Chinese consumers in recent years because of the CIIE.
Zha said Vorwerk has been working to increase investment in digital marketing and livestreaming services in the last few years. It has established partnerships with Alibaba and Alibaba's grocery chain Hema Fresh to upgrade its marketing channel following the CIIE.
The new partnerships have brought many benefits to Vorwerk and were critical in stabilizing its sales volume in early 2020, when many companies faced unprecedented challenges due to the outbreak of COVID-19.
Vorwerk expanded its exhibition area at the 2020 CIIE by a third compared to the previous edition and showcased an array of new products and services. The company is also planning to set up its digitalization customer experience center in China.
Zha said the Chinese market has become one of the most important markets in Vorwerk's global strategy. The growth rate of its sales revenue in the Chinese market has been leading other regions for the 2019 financial year.
During an interview at the 2020 expo, Zha said Vorwerk is planning to set up new production facilities in China and will pay greater attention to smart products development and digitalization.
The company is confident about its prospects in China because of the nation's impressive digitalization drive, prosperous talent market and effective management systems for dealing with public matters.
Vorwerk signed a memorandum of understanding with the CIIE Bureau in 2020 to participate in the next three editions of the CIIE.
"We are filled with expectations for the annual event. We look forward to generating fruitful results from this trade fair," Zha said.
Enterprises participating in the CIIE can share their stories by sending them to ciiestories@ciie.org
By Tang Zhihao

---