News Center

CIIE Stories | Cargill lauds CIIE for amplifying it brand exposure in China Release date: 2021-04-20
Source:China International Import Expo Bureau
Editor's note: It has been three years since the first edition of the China International Import Expo. This series of stories highlights the achievements and changes that participating enterprises have experienced because of the annual expo.
Cargill, an agricultural conglomerate from the United States, has seen its brand exposure improve significantly in China after participating in the past three editions of the China International Import Expo.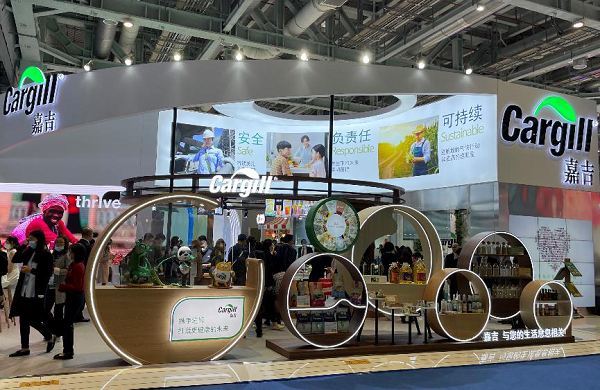 The enterprise, which first entered the Chinese market in the 1970s, noted that China is of great importance to the group's development.
Liu Jun, China president of Cargill, said the annual expo has strengthened the ties between Cargill and the Chinese market and given the company more insights into the local market.
Over the past three expos, Cargill signed deals totaling $8.2 billion with Chinese enterprises engaged in a wide range of sectors, from grains to food ingredients to cotton and even iron ore.
According to Cargill, young Chinese consumers have been paying greater attention to their health and are keen to buy high-quality and environmentally friendly products. As such, the company introduced several new products centered on safety and sustainability during the last three editions, including a safe-to-eat beauty product, which was much talked about among consumers.
Cargill also displayed some of its plant-based protein products under the brand PlantEver, which offers beef-alternative patties and chicken-alternative nuggets, during the third CIIE.
"The annual CIIE represents China's resolve to promote opening-up and economic globalization. It is not just a display platform but also a communication platform to connect enterprises with clients," Liu said.
The agricultural products industry special committee of the fourth CIIE Enterprise Alliance was established in January 2021. Cargill, which has signed up for this year's edition of the expo, was named the first rotating president of the committee.
Cargill said it hopes to see more companies take part in the annual trade fair.
Enterprises participating in the CIIE can share their stories by sending them to ciiestories@ciie.org
By Tang Zhihao
---