News Center

CIIE Stories | CIIE benefits convince Novo Nordisk to up China investments Release date: 2021-04-27
Source:China International Import Expo Bureau
Editor's note: It has been three years since the first edition of the China International Import Expo. This series of stories highlights the achievements and changes that participating enterprises have experienced because of the annual expo.

Denmark's biopharmaceutical company Novo Nordisk has reaped benefits after attending the CIIE for three consecutive years since 2018.
As such, the company will further increase its investment in China and help the country foster a more innovative healthcare ecosystem.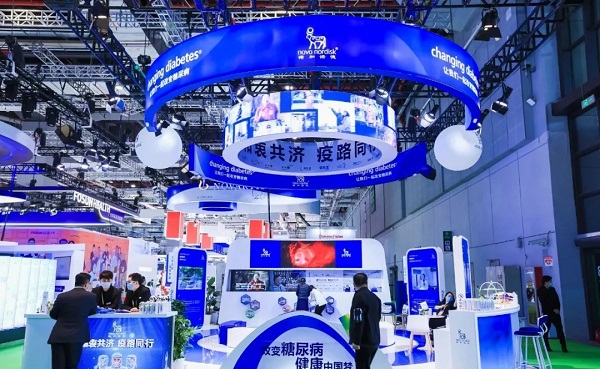 "Novo Nordisk learns about the latest products, services and ideas in the pharmaceutical industry brought by our peers," said Zhou Xiaping, senior vice-president of the group and president of China at Novo Nordisk Pharmaceuticals. "We also understand the development of internet technology, big data, artificial intelligence, internet of things and 5G, and their application to the pharmaceutical industry by attending the annual CIIE."
Novo Nordisk said the annual CIIE is of great importance to the company's efforts to accelerate the launch of new medicines in the Chinese market in the last three years. For instance, one of its diabetes treatment products was included in the catalog of medicines covered by national medical insurance system in August 2019 after it was displayed at the first CIIE in November 2018.
In 2020, another diabetes treatment product was introduced in China shortly after making debut at the second CIIE.
The accelerated launch of new products in China has strengthened the company's confidence in increasing investment and upgrading its development strategy in China in recent years.
The company announced an upgraded innovation supporting program known as the China Essentials 2.0 during the 2020 CIIE to enhance China's presence at the frontlines of global pharmaceutical innovation.
The first version, known as China Essentials, was released in April 2020. The program will integrate China into Novo Nordisk's global clinical development program and achieve simultaneous submission for global new drug applications.
According to the company, this program has led to many new partnerships. To date, Novo Nordisk has established collaborations with 20 different departments across 15 hospitals. The company said it hopes to launch many innovative drugs in China before 2025 with the support of China Essentials 2.0.
"I am very proud of the results we have seen from the China Essentials program, and I am excited to continue upgrading this program," said Mads Krogsgaard Thomsen, executive vice-president and chief science officer for Novo Nordisk.
"China has become one of the world's pharmaceutical innovation centers. Novo Nordisk will further strengthen cooperation with local innovators in China to bring more benefits to Chinese or even global patients," said Zhou.
Novo Nordisk had a 700-square-meter exhibition space at the 2020 CIIE, an increase from 500-sq-m in 2019. Apart from setting up a booth in medical equipment and healthcare products area, it also set up an exhibition in the subsection dedicated to public health and anti-pandemic products and services. Many of its developments in diabetes research were on display.
Enterprises participating in the CIIE can share their stories by sending them to ciiestories@ciie.org
By Tang Zhihao
---