News Center

CIIE Stories | Bayer eyes another successful CIIE Release date: 2021-06-16
Source:China International Import Expo Bureau
Editor's note: It has been three years since the first edition of the China International Import Expo. This series of stories highlights the achievements and changes that participating enterprises have experienced because of the annual expo.
Bayer Group said its relationship with the China market has become even closer as it constantly embraces new opportunities partly due to the China International Import Expo.
The German company has participated in the expo for three years in a row.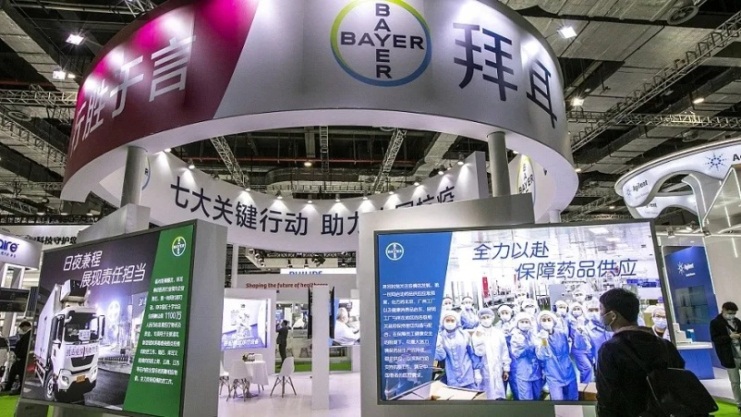 "We have paid great attention to the CIIE. It is a major decision made by China to promote a new round of high-level opening-up and a major initiative taken by the country to open its market to the world," said Jiang Wei, president of the China branch of Bayer Group.
"This is a great inspiration to Bayer China, which has long been committed to the market. We should take the lead to participate in the expo," Jiang said.
In 2020, many international exhibitions had to be put on hold due to the impact of the global pandemic.
"The third CIIE was held as scheduled. This shores up Bayer's confidence for long-term development in China market," he added.
Jiang noted that Bayer completed more than a dozen contracts and expanded its scale of cooperation both in China and abroad despite the pandemic.
Bayer also became strategic partners with many universities or innovative enterprises such as Jiangnan University, Sirio Pharma and Wecare Probiotics.
Responding to the increasing demand of more refined health consumer products, Bayer has developed and produced more products suitable for Chinese consumers, which combines its own technology and R&D experience with those of its partners.
In addition, Bayer has signed a letter of intent with the Beijing Economic and Technological Development Zone to invest more than 50 million euros to greatly improve the production capacity of prescription drugs in Beijing. This move is expected to speed up the implementation of Bayer's innovative digital solutions, ensure the stable supply of Bayer's high-quality prescription drugs, and help more Chinese patients obtain high-quality treatment solutions. At present, the project is progressing smoothly as planned, according to Bayer.
At the third expo in 2020, Bayer announced a farmer donation project called Better Farms, Better Lives. Under this project, Bayer plans to provide about 40 tons of plant protection products to 200,000 Chinese farmers affected by the pandemic. The company will also carry out related training activities to promote the planting level and increase production.
The move will help improve farmers' incomes and improved their livelihoods. As of May this year, the project was completed in Zaoyang county, Xiangyang of Hubei province, Wuyang county and Yancheng district in Luole of Henan province, according to Bayer.
Bayer was also actively involved into the establishment of the subsection for public health and pandemic prevention at the CIIE last year. The organizer of the CIIE had set up this special zone to display the latest public health and pandemic prevention products and technologies in the world and improve public's awareness.
Within this zone, Bayer set up an independent exhibition booth displaying its commitment to the fight against the pandemic. It also showcased its contribution to both China's public health and pandemic prevention work and the optimization and innovation of the global public health system.
"I am looking forward to a successful 4th CIIE. This year, we will continue to present innovative achievements in medical solutions and our integrated agricultural solutions. At the same time, we hope to explore more partners and cooperation opportunities through more extensive exchanges," said Jiang.
Enterprises participating in the CIIE can share their stories by sending them to ciiestories@ciie.org.
By Wang Hongyi

---