News Center

CIIE Stories | CIIE a goldmine of opportunities for SGS Release date: 2021-06-18
Source:China International Import Expo Bureau
Editor's note: It has been three years since the first edition of the China International Import Expo. This series of stories highlights the achievements and changes that participating enterprises have experienced because of the annual expo.
SGS, a world leading inspection, verification, testing and certification company, has constantly expanded its development in China thanks to the opportunities created by the China International Import Expo.
The Swiss company is among the first multinational companies to enter the Chinese market. Since entering China in 1991, the company has evolved in tandem with the pace of China's reform and opening-up.
SGS made its CIIE debut in 2018 at the Trade in Services area and has participated in all three editions of expo.
"At the first expo, we had a communication and exchange with officials from China (Zhejiang) Pilot Free Trade Zone (FTZ) in Zhoushan. We soon agreed to establish a laboratory in Zhoushan," said Du Jiabin, CEO of SGS China.
"At the CIIE, various opportunities of cooperation and development are continuously emerging."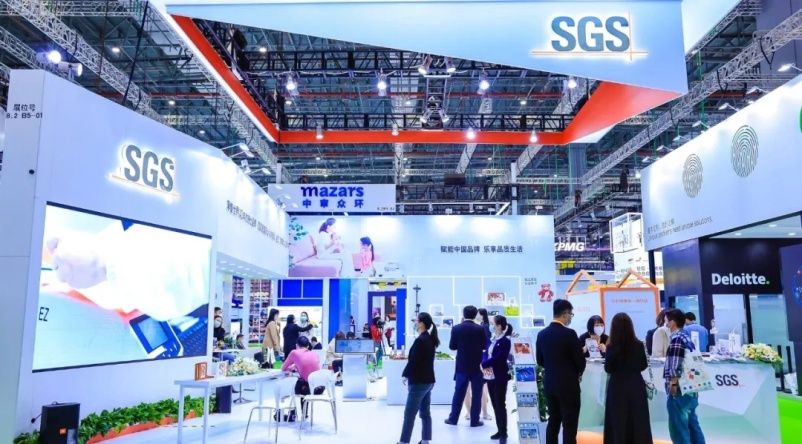 SGS's development in China has been fast tracked because of the CIIE. In 2019, the company invested around 10 million yuan ($1.55 million) in building a laboratory in Zhoushan of Zhejiang which provides product quality testing for local petrochemical enterprises.
In 2020, additional investment was channeled to the laboratory to fully serve the industrial development of the Zhoushan FTZ.
SGS is now not only an exhibitor of the CIIE but also an investor that is playing a role in the development of China.
At the previous two sessions of the expo, SGS displayed a host of its service projects such as its cooperation projects with Chinese companies involved in Belt and Road Initiative, a mask testing integrated platform, new public health management services and service solutions for 5G testing.
At the third expo in 2020, SGS published a manual regarding the laws and regulations of China's import food access. It also announced that it would establish a semiconductor-related analysis laboratory in Shanghai's Zhangjiang area.
This year, at the fourth expo, SGS will expand its exhibition size to 144 square meters and display more innovative services.
The company also said that it will seize the opportunities in the Chinese market and promote the development of global trade with its professional services.
Enterprises participating CIIE are invited to share their own stories, please send email to ciiestories@ciie.org
By Wang Hongyi
---