News Center

CIIE Stories | Terumo eyes growing opportunities in medical and healthcare industry Release date: 2021-07-15
Source:China International Import Expo Bureau
Editor's note: It has been three years since the first edition of the China International Import Expo. This series of stories highlights the achievements and changes that participating enterprises have experienced because of the annual expo.
Medical devices and healthcare businesses have been racing to capitalize on the opportunities brought by the China International Import Expo.
Among them is Terumo, a Japanese medical technology company, which first entered the Chinese market in the 1980s.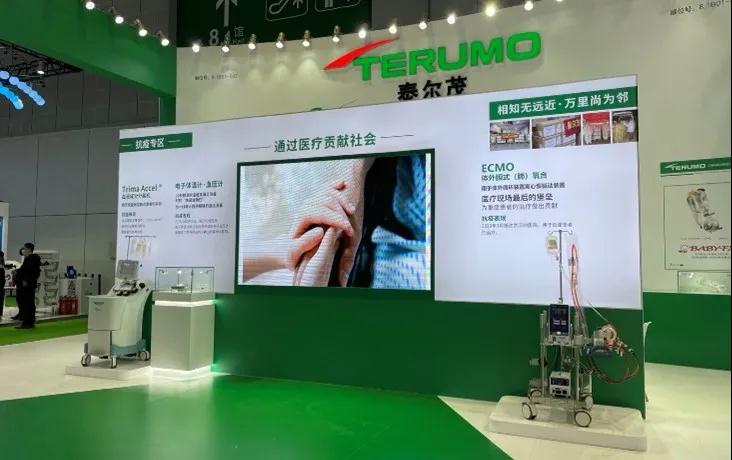 Terumo first started as a thermometer manufacturer and now has an expansive product portfolio that includes vascular intervention and cardio-surgical solutions, blood transfusion and cell therapy technology, as well as medical products essential for daily clinical practice.
According to the company, China has become one of its most important strategic markets, with its China operation achieving a double-digit compound annual growth rate over the past two decades.
Despite having only a small exhibition area at the inaugural CIIE in 2018, Terumo managed to gain significant exposure at the expo, which in turn raised its brand recognition.
At the second expo, the company displayed the world's finest and shortest needle for insulin injection which drew the attention of many visitors and exhibitors.
At the third expo last year, Terumo showcased a lightweight extracorporeal membrane oxygenation (ECMO) that weighs only 8 kilograms as well as thermometers and sphygmomanometers.
This year, Terumo will continue to participate in the fourth CIIE.
"The CIIE is a good exhibition platform for various industries. It shows that China is opening up its market as well as the country's confidence and determination in supporting economic globalization," said Masayuki Maruta, CEO of Terumo (China) Holdings Co Ltd.
This year marks the 100th anniversary of Terumo, and the group is planning to double its exhibition area at the CIIE to commemorate the occasion.
The company will also highlight the importance of technological research and development, and showcase products and solutions in the fields of diabetes, minimally invasive treatment and cell technology.
In recent years, China has rolled out a batch of policies and guidelines to support the development of its medical and healthcare industry. These policies are expected to create a new round of business opportunities for the industry.
Maruta said the company is hoping to attract more business partners through the CIIE, and that it will continue to strengthen the innovation of technical services and business models, and enhance its R&D capabilities in China.
Enterprises participating in the CIIE can share their stories by sending them to ciiestories@ciie.org
By Wang Hongyi

---