News Center

Rio Tinto establishes long-term collaboration with CIIE Release date: 2023-05-24
Source:China International Import Expo Bureau
Rio Tinto Group on May 22 signed a long-term collaboration memorandum to participate in the China International Import Expo for the years 2024 to 2028, becoming the first Fortune 500 company to sign a five-year agreement with the CIIE Bureau.
As a world-leading mining corporation that has a presence in 35 countries and regions, Rio Tinto aims to leverage the platform provided by the expo to explore development opportunities and expand its presence in the Chinese market through this long-term cooperation.
Liu Fuxue, deputy director-general of the CIIE Bureau, said at the signing ceremony that the CIIE has increasingly become a platform for showcasing environmentally friendly products and services, as well as promoting green and low-carbon concepts and practices.
Over the past five years, the CIIE has set up a special committee and subsection for low-carbon energy and environmental protection technology, and a sub-forum of the Hongqiao International Economic Forum that is themed on green development, he noted.
Alf Barrios, chief commercial officer and China chairman of Rio Tinto, said that the long-term cooperation between Rio Tinto and the CIIE represents another important milestone in deepening cooperation between the company and China.
He mentioned that over the past five years, the CIIE has demonstrated China's determination to actively open its market to the world and has become an important platform for China to share development opportunities and promote global cooperation.
During the meeting with Barrios on the same day, Chen Chunjiang, assistant minister of commerce, also expressed hope that Rio Tinto would actively utilize platforms such as the CIIE to deepen cooperation with domestic and foreign enterprises in green and low-carbon transformation and contribute to global sustainable development.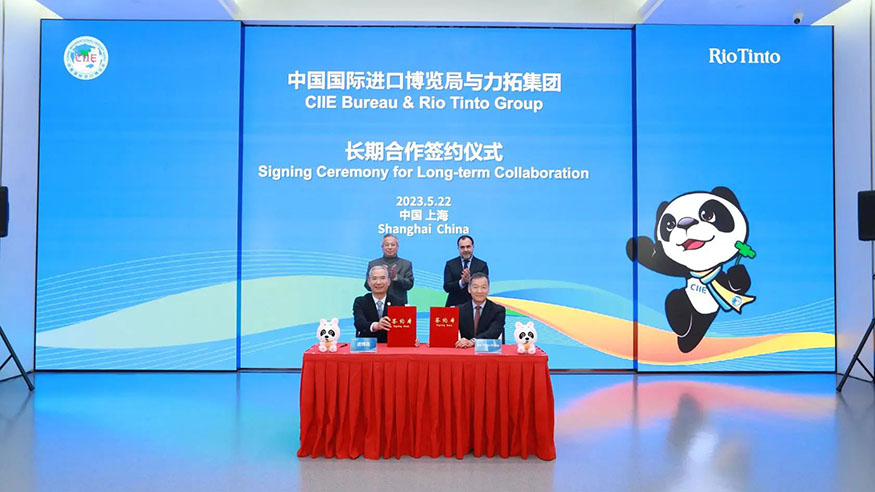 The signing ceremony for long-term collaboration between the CIIE Bureau and Rio Tinto Group. [Photo/CIIE Bureau]
Rio Tinto has since 2018 actively participated in the CIIE and reached cooperation intentions with numerous Chinese purchasers.
The company showcased more than 10 kinds of metallic minerals and green innovation applications at the fifth CIIE in 2022. It was also listed as one of the top 10 exhibitors in media influence in the low-carbon energy and environmental protection technology subsection.
At the beginning of this year, Rio Tinto signed up for the sixth CIIE.
Jakob Stausholm, chief executive of Rio Tinto, will also attend this year's expo in November with the company's senior management team.
By Zhao Guangmei
---