News Center

UK celebrates success at 3rd CIIE with wide range of cooperation potential Release date: 2020-11-12
Source:chinadaily.com.cn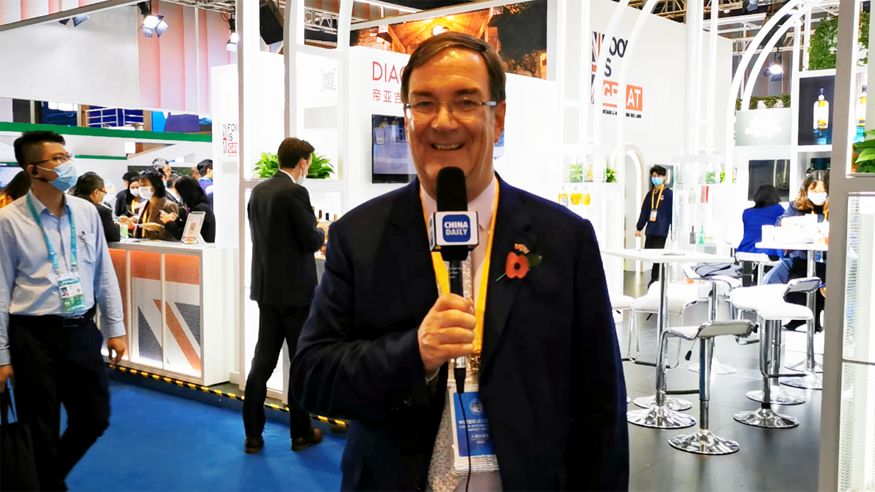 Chris Wood, consul-general of the British Consulate-General Shanghai, speaks during an interview at the third CIIE in Shanghai, on Nov 7, 2020. [Photo/chinadaily.com.cn]
British companies had a very successful presence at the 3rd China International Import Expo in Shanghai, with a wide range of cooperation potential in diversified fields.
"CIIE is an important platform for exchanges because it's multi-sector. It covers all sectors besides our pavilion. British companies were present in the services sector, in the healthcare sector, in the manufacturing heavy industry sector, so I think this is a good platform for exchanges," said Chris Wood, consul-general of the British Consulate-General Shanghai.
Obviously this year has been different because of the COVID-19 pandemic, but there were still plenty of interactions between Chinese and British businesses at the third CIIE, Wood said.
Wood, who began working in the position in July last year, has been in China since Feb 3 this year. He witnessed all the effective measures China has taken to battle against the epidemic.
"I think for China to hold the CIIE this year as normal, in a sense it reflected that business in China is more or less back to normal. China has a growing economy. This year it is better than other economies," Wood said.
Despite difficulties with international travel, the UK still brought over 100 companies involved in the food and drink sector to be represented at the British pavilion, and a digital platform, created to further stimulate business communications between China and the UK. Over 200 companies in other sectors also were represented through the digital platform.
Rob Smith, director of the Baijiu Society, participated in the CIIE for the second time. He has brought standard brew and premium brew Baijiu-flavored sport beer with a range of British made Baijiu in peach, orange, lychee, cherry and botanical flavors, as well as a Baijiu flavored coffee liqueur.
"We met many potential business partners, some direct customers and some agents and distributors. The exhibition was very successful for us and provided a lot of contacts for future business," Smith said.
This is the first time McCann Apples brought apple juice with a range of mixed fruit and medium sweet flavors, and dry cider to the CIIE, said David Shaw, the company's China representative.
"We are delighted that we have the opportunity to explore further with potential distributors from a range of places across China whom we met at the CIIE and believe we will have a long-term relationship with many of them as we explore business opportunities," said Shaw.
McCann Apples' plan is to develop other products for the China market that fits with the tastes of the Chinese people, to work closely with distributors who know the market and to promote the products successfully in different regions of China, according to Shaw.
The Chinese market is important to Britain as China is the third-largest market for the country after the EU and North America, and bilateral trade between China and the UK has been growing in recent years, said Wood.
"I think we will see more collaboration in technology through the main sectors, such as big data, internet of things and artificial intelligence, where universities and companies can work together but also in this time of COVID I think also the health sector is a sector with growing importance," Wood said.
The third CIIE saw the UK secure more than 430 million pounds of commercial deals across a range of sectors, as well as thousands of new connections between UK and Chinese companies, with 120,000 unique visitors to the new UK-China business matching platform.
By Yang Yang
---