Canon's face recognition high-speed digital copy-printers to be unveiled at CIIE Release date:2018-11-03
Canon Inc., the Japanese tycoon in the photography industry, will exhibit its field of diversified imaging technologies applications at the upcoming CIIE. Specifically, its presentation will include a high-speed digital black-and-white copy-printer with face recognition technology, as well as its desktop 3D printer "Marv".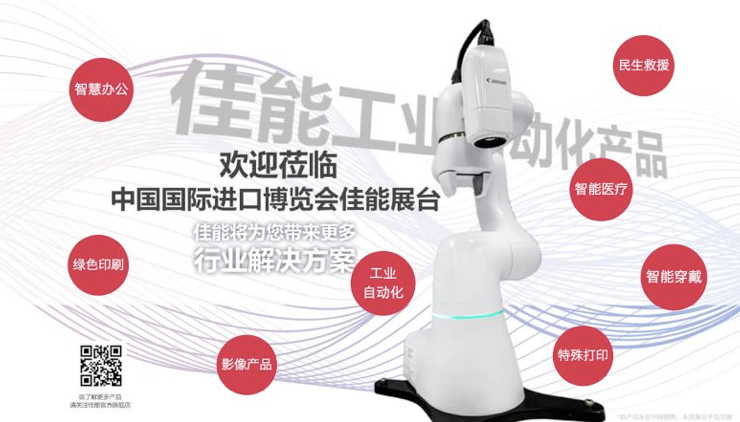 Canon's high-speed digital black-and-white copy-printer will combine face recognition technology with a printing management system, thereby enabling smart offices by allowing the machines to be started up via face recognition using data collected in advance. Furthermore, this high-speed digital black-and-white copy-printer can print, copy and scan 55 pages per minute, offering users a smooth operating experience.
Targeting the desktop 3D printing market, "Marv" is capable of printing its samples in a short time, and it is the ideal representative of safety, usability, precision and speed while printing. This makes it suitable for educational institutions and the hands-on classrooms of elementary and secondary schools, while offering all types of vocational schools, higher vocational colleges and universities the ability to offer relevant specialized 3D courses.
Meanwhile, Canon Inc. will display a digital color copy-printer that supports automatic cloud printing service solutions—"Canon Super Cloud Printing". By scanning a QR code on their devices with WeChat or Alipay, following the instructions to complete procedures like printing, copying and scanning, and then paying, users can print by themselves. This is expected to usher in the new experience of easier commercial printing in the mobile Internet era.
In addition to their smart office solutions, Canon Inc. will demonstrate its solutions concerning intelligent wearables & rescue, factory automation, green printing and smart healthcare at this CIIE. For instance, their factory automation solution covers IP cameras and image processing software for manufacturing sites.
Canon Inc. has expressed the hope that it can further boost the development of imaging technology while applying it at the level of individual lives to more extensive fields like commerce and industry, providing users with more diversified products and solutions.