参展商
EXHIBITION AREA
Apparel, Accessories & Consumer Goods
WHY JOIN US?
Over the past decade, annual growth rate of retail sales stayed above 10%. While Chinese consumers are now starting to value quality over price, imported goods are gaining popularity. In the past, importing market was dominated by large overseas companies. Nowadays, small and medium-sized businesses are selling huge amounts of products into China via new channels, such as shopping agents, supermarkets, and E-commerce.
The CIIE is one of new channels that will expose im-ported products to the Chinese market, and will help companies to locate potential customers. In addition to B2B and B2C online trade, the Expo builds a stable channel that leads and benefits SMEs into the Chinese market all year round.
PROFILE OF EXHIBITS
Apparel, Textiles, Silk Products, Kitchenware & Table-ware, Homeware, Gifts, Home Decorations, Festival Products, Jewelry & Ornaments, Furniture, Infant & Children Products, Toys, Culture Products, Skincare, Hair Beauty & Personal Care Products, Sports & Leisure, Suitcases & Bags, Footwear & Accessories, Clocks & Watches, Ceramic & Glass Products, etc.
EXHIBITION DETAILS
Hall 5.1 Hall 6.1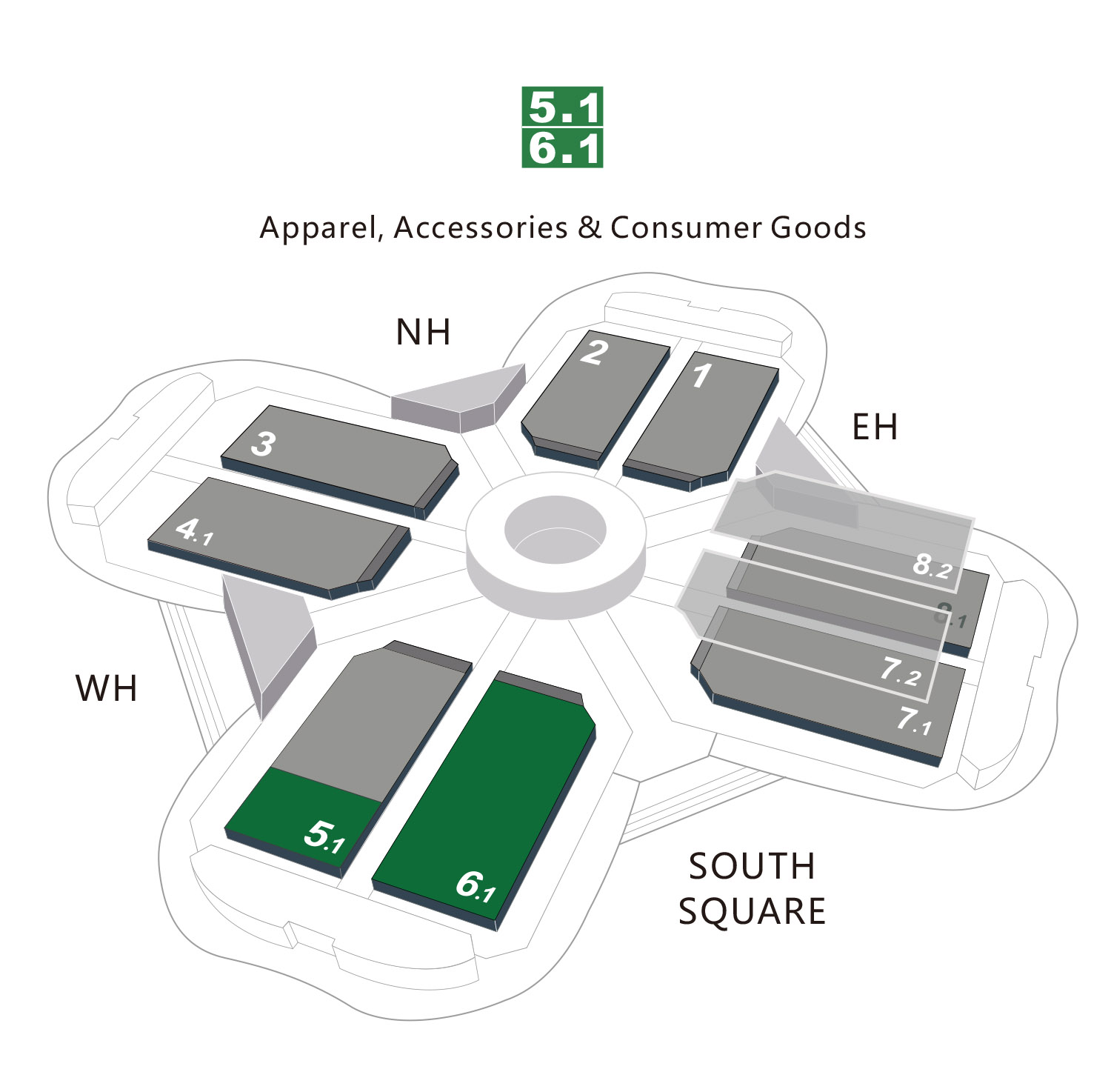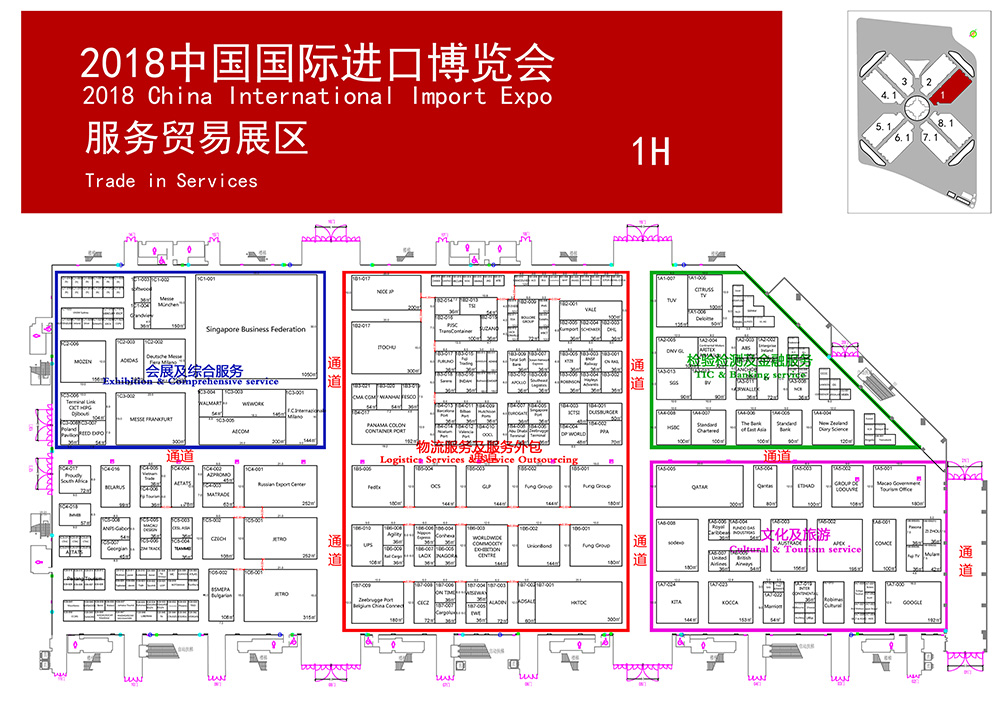 EXHIBITOR LIST
| | | |
| --- | --- | --- |
| "ELSELEMA" LTD | HORIUCHI MIRROR INDUSTRY CO.,LTD. | OUSIA Australia Pty Ltd |
| (株)Costory | House of Danube Ltd | P.A.I. Japan Co., Ltd |
| 3D TRADE | Hui kuen co.,ltd | P2 co., Ltd |
| A&People Corporation | HYOGO TRADING Co.,Ltd. | PACKCENTER Srl |
| A.Juknos studija"A+L" | I.T.N. SPA | PAJARO-SAP FUR S.R.L |
| AAEBON CO.,LTD | ICEX | PANROSA ENTERPRISES, INC |
| ABRAHAM K HANGUL | ID LOUVRE Co., Ltd. | Parabiago Collezioni s.r.l |
| Abundant Natural Health | IE Darvin V.S | PASQUALE BRUNI SPA |
| Abybomglobal Co. Ltd | iHome Group of Companies | PEARL METAL CO., LTD |
| ADDI GLOBAL Inc. | IHPartners Co.,Ltd | Peppermint Grove Australia |
| ADERIA Co.,ltd. | Ikeda co.,ltd. | PERMATA HIJAU GROUP |
| Adsur.NET Inc. | IKEX INDUSTRY CO.,LTD | PF "CMC" Daairy |
| AG LIMITED | IMC Co., Ltd. | PIERRE PAUL S.R.L |
| AIRO INC. | IMMEA | Piso Comodo Co.,Ltd. |
| AISEN INDUSTRIAL CO.,LTD | Imperial Porcelain Manufactory JSC | PNT |
| ALICE MARTHA | INDIAN COTTAGE INDUISTRIES | POLA Inc. |
| ALPHAWAY Co., Ltd. | INFINITY | POLIBOY Brandt & Walther GmbH |
| Alviva | Ingon Gallery Partnership | POLIN co., Ltd. |
| AMANOSHIKKI CO.,LTD | INTERNATIONAL TEXTIEL HOUSE OF EGYPT | Polish Investment & Trade Agency |
| Amorepacific | ISHIHARA CO., LTD. | PRAIRIEDOG CO.,LTD |
| ANJU JAPAN Co.,LTD. | ISISWIG CO., LTD | PRODUCT OF AUSTRLIA TRADE |
| ANNARATONE S.R.L | ISTITUTO GANASSINI S.P.A. | PT. Purinusa Ekapersada |
| Aomaijia E-commerce Company Limited | Istok Audio Trading | Public Interest Incorporated FoundationWAKAYAMA INDUSTRY PROMOTION FOUNDATION |
| APEX | ITA | PURE COCO CO.,LTD |
| apoL Inc. | ITALIAN DESIGN S.R.L | PURE FIJI EXPORT LTD |
| ARAC 9 | ITALPREZIOSI SPA | QUADRIFOGLIO SPA |
| ARAYAN Co. | Italy-china fashion &creative council | Rahimov AA LLC |
| ARC FRANCE | ITOCHU CORPORATION / SHIKIBO LTD. | RE SOLE S.R.L |
| ARIETTI CAMILLA | Iwate Iron Corporation | Renown |
| Aromika | IWATE PREFECTURAL GOVERNMENT | Renske Tramontina K9 Natural Chicco Chante Clair Gimborn |
| ARS MAJOR | J brand | Revlon |
| ARSH INTERNATIONAL PROPRIETOR | J&G COSMETIC Co.,Ltd | RICCI s.r.l |
| Art Group "Saima" | J.J COMPANY | RICHLINE ITALY |
| ART LLC | JAPAN ENSINYO TRADING CORPORATION | RIGOON |
| Art Studio "Bukon | Japan External Trade Organization(JETRO) | RINDI S.P.A |
| Artesanias Montecristis Ecuador | Japan Metal Houseware Industrial Association | RINFRESCHI SRL UNIPERSONALE |
| Artisenses LTD | JAYJUN Cosmetic Co. Ltd | Rio Group Holdings Inc. |
| Astage co., ltd. | JE international | ROBERTO COIN S.R.A |
| ATCLIP | JETRO | ROBEUS |
| atelier Ai Co.,Ltd. | Jewelry Miura Co.,Ltd | Rocket Soap Co., Ltd. |
| ATIANU COSMETICS | JH GLOBAL CO.,LTD | Royal Fortune International (Canada) LTD |
| ATSUGI CO.,LTD | Joint-stock company "KAST" | Rubbedin Pty LTD |
| AUNGWOOD HOME COLLECTION | Jong Ie Nara Co., Ltd. | Rush Direct Inc. |
| Australian Business Chamber | JowooBeauty Co., Ltd. | RUSSIAN EXPORT CENTER |
| Authentic Models BV | JPLUS VISION S.R.L | Rwanda Delegation |
| Azimi Brothers Group of Companies | JSC Belarusian Forestry Company | SADO Kenko Assist |
| B&D Life Health Co., Ltd. | JSC Gomel MA Kristall - managing company of the holding company KRISTALL-HOLDING | SAIKAI TOKI Co.,Ltd. |
| Bagus Group PT.Suryamas Mentari | JUBINE | SAKAGEN CO.,LTD. |
| BEAUTIFUL ANGEL CORPORATION | JUNIQUE GLOBAL PROSPECTS LIMITED | Samarkand-Bukhara silk carpets |
| Beauty Research Institute of Asia | JV LLC UZTEX CHIRCHIK | SAMPO SANGYO Co.,Ltd. |
| BEAUTY-N FOR READYMADE GARMENTS | KALYO | Samyang corporation |
| BEE CHIN HEONG SDN BHD | Kampo Marino Ltd. | SANRITSU Co.,LTD |
| Bernhard Hammig Flutemaker | KANO | SANSHIN KAKO Co.,Ltd |
| BEST SOLUTION CO.,LTD | Kanpura s.r.o. | SANWATSUSYO CO.,LTD |
| BESTCO CO.,LTD | KAO CORPORATION | SASAGE KOGYO.co.,ltd. |
| Binger (HK) Limited | KARON MUHENDISLIK SAN TIC LTD STI | Scott Collections Limited |
| Bishop Co., Ltd. | KAWAI CO.,LTD. | SEBA KİMYA SANAYİ VE TİCARET AŞ |
| BISHOP WORLD GLOBAL VENTURES LIMITED | KAYOH TECHNO PLAZA CO.,LTD. | SEIKODO INC. |
| BLANCO GmbH + Co KG | KBH | SEINDNI CO.,LTD. |
| BLANK | Kelemata Srl | Sekikanetsugu Cutlery Co., Ltd. |
| Blue Skin SAS | Kieninger Uhrenfabrik GmbH | Sergio Amaranti S.r.l |
| Bodyguard pharm GMBH | KIMURA OHSHIDO CO.,LTD. | SERIKOS COLLEZIONI & TESSILI SRL |
| Bomyung Oriental Medical Clinic | King Koil Licensing Company | Serta Inc. |
| Bonum Fatum | KITA | Sesderma S.L. |
| Bor Felt Factory | Kitamura Japan Inc. | SESHIN INDUSTRY INC |
| BOUL HAUS | Klara Faustina | SETSETSET |
| BRETALIA S.R.L | KMPC CO.,LTD. | SHIBATA SIKKI Co.Ltd. |
| BRIC'S SPA | KOGIKU CORPORATION , CO ,LTD | SHIMOYAMA CO., LTD. |
| Brush Wordl. Co.Ltd. | KOHSI | SHINKO BRUSH Co.Ltd. |
| BSG H&B CO.,LTD. | KOKUBO & Co., Ltd | SHINKOUKINZOKU |
| Buayok Import & Export Trading Co., Ltd. | KOSE CO.,LTD | SHISEIDO CO., LTD |
| BYYJ CO., LTD | Krasnaya Liniya | Shizuoka Asia Business Corporation LLC |
| CADAC | Kum Luo Crocodile Farm | SHOWA NISHIKAWA.CO.,LTD. |
| CAF S.R.L | KunLuoSheng Crocodile Farm | Shusha LLC |
| Cai Shi Trading | KURSEL | SILO Spa |
| CALZATURIFICIO ACCADEMIA S.R.L | KYME S.RL | SILVIETTA S.R.L |
| CALZATURIFICIO TOGI S.R.L | Kyoto ZUIHODO | Sinokorean Ltd. |
| CAN DO CO., LTD. | L&P cosmetics Co. ltd | SKINLOVERS COSMETICS Co., Ltd. |
| Carina Wear | L'Oreal | SKK Kuchen-und Gasgerate GmbH |
| CELL FOR ONE CO., LTD | LABO INTERNATIONAL S.P.L | SKY DEER Co. , Ltd. |
| CENTRO BEL FURS DIFFUSIONE PELLICCE S.R.L | Laboratoires Expanscience | SKY RESOURCES SDN.BHD. |
| CEVHERUN MUCEVHERAT SANAYI VE DIS TICARET LIMITED SIRKETI | Laboratoires SVR | SMCP |
| Champion International Pty Ltd | Laboratories Babe, S.L. | SOLMAZER MUTFAK EŞYALARı SAN. VE TİC. LTD. ŞTİ. |
| CHARA-ART Inc. | LABORATORIO ARTIGIANO GORETTI S.R.L | SOMNIA |
| CHATEAU D'AX S.P.A | laCabine | SOOHYANG COSMETICS. CO.,LTD |
| CHERRYKOKO | LAMY COSMETICS CO., LTD | SOOTANG HOBBY |
| CHIARA ALLEGRANZI | Lancell Bio Co., Ltd. | SORDELLI FRANCO S.R.L |
| CHOUETTE D'OR | LANDI CONFEZIONI S.R.L | SORYA MILANO SRL |
| CHUUOUMOKUZAI MARKETING Co., Ltd | LAYO GLOBAL ENTERPRISES | South Sudan Women Enterpreneur Association |
| CLEAN & CLEAN, LDA | Le yiel | SOZZI CALZE SRL |
| Clickpress Group(Space 18) | LEADER MATTRESS,INC | Spernanzoni S.r.l |
| CLINPET JAPAN CO.,LTD | Leaders Cosmetics Co., Ltd | Spitamen Textile LLC |
| Commune Lifestyle Pte Ltd | LEESOME | SPLENDEUR Co., Ltd. |
| Concern Bellegprom | LEGO | Stakunft GmbH |
| Coop Danmark A/S | LEMUELBEAUTY CO.,LTD | Stenders SIA |
| Creative Industries and Enterprises Pvt Ltd | LEONIS CO.,LTD. | SUGARONI VINCENZO SRL |
| CRECER Co.,Ltd. | LesbeauxAmie | Summit |
| DADA BANGLA LIMITED | LG生活健康 | SUNCRAFT COMPANY LIMITED |
| Daeyeong Co. | Lider LLC | Swiss Cotton Garments Co. |
| Dairi Lumber Co.Ltd | Liebherr-Singapore Pte Ltd | SWISS GARMENTS COMPANY |
| Damin Co. Ltd | LIHIT LAB., INC. | Synergetic |
| DANDY'S EYEWEAR BY FAOFLEX S.R.L | Limited Liability Company "MEDEO"RUSSIA | T.T.S.LATEX PRODUCTS |
| DAOLOY handicraft | LIO' S.R.L | TACOBA FORESTRY CONSULTANT NV |
| DAVID MARC | LITTLE WALK ENTERPRISES | Taihei Electric CO.,LTD. |
| DEA LABORATORIES PTY.,LTD | Liz Fashion Industry Limited | TAIKO PHARMACEUTICAL CO.,LTD |
| Decoflux | LLC "Belgorod Jewelry Factory "Art-CARAT" | Tair |
| DEL GATTO SRL | LLC DL Group | Takashimaya Co.,Ltd |
| Dermafirm Inc | LLC SAKHA TAAS | TAKATA Lemnos.Inc. |
| Dilbar Fashion House/Ashimbay Ltd | LOMBARDI SRL | Tamahashi co.,Ltd. |
| DILUCA S.R.L | LORIBLU S.P.A | TANGCHEN Pty Ltd. |
| DINT CO. LTD | LOWA Sportschuhe GmbH | TATSUMIYA CO.,LTD. |
| DIRECTOR B | Ltd "Khelovnebis Sakhelosno" | TCB |
| DoDream Co., Ltd. | LUI & LEI CO., LTD | Teng Long Trading Ltd |
| DONG-A PENCIL CO.,LTD | M/s. Rajby Industries | Textile Gallery |
| DONGLIAN FASHION(BD)LTD | M/s. Soorty Enterprises (Pvt) Ltd., | Thai Benjahong group |
| DOSHISHA CORPORATION(CONSUMER) | Madad Pty.Ltd | The cozynest company |
| DOUCAN | Madam Matush | The Kinway Investment Group |
| Dr.Althea Co, Ltd Korea | Madam-T | THEBMINTERNATIONAL |
| D-unit | MADRAS INC. | THIRI MYANMAR |
| E & G | MAISON LUIGI BORBONE | Tigger custom company |
| E.P WORLD | Maitland-Othello GmbH | TINA SORIANO ORAFA DI SORIANO LIBERATA |
| ECOCATION CO., LTD. | Malick Mendy Tailoring LTD | Ting Yi Group Holdings Limited |
| Ecolife LLC (Free age) | MAMIAE | TM Fashion |
| EDARSKO COMPANY LTD | Man.G | TnJ Co.,Ltd. |
| EFFAN | Maple Linknet Distribution Ltd | Todai Co.,Ltd. |
| Egypt Foundation For Integrated Development | MARIND CO.Ltd. | TOKAI KIKI KOGYO CO.,LTD. |
| Egyptian Citadel Factory | MARKETING | TOMUYAMO.Kun Cosmetic ArtBrush Co.,Ltd. |
| Ei Ideas Sdn. Bhd. | Martiderm | Too Cool for school corp. |
| EIWA Co.Ltd | MARTINI OCCHIALI S.R.L | TOWA INDUSTRY CO., LTD |
| El Nasr Glass & Crystal | Maruyama Fiber Industry Co., Ltd. | TOWA TSUSHO Co.Ltd |
| ELAND WORLD CO LTD | Maruyama Giken | Toyota Tsusho Corporation |
| Emma Baby | MASI GIOIELLI SNC | TPS Bedding (Singapore) Pte. Ltd |
| ENPRANI Co., Ltd | MATTIOLI SPA | Trade Unitary Enterprise《Ivatsevichdrev Pro |
| Ensemble Social Welfare Corporation | Mcobpartners Co.,Ltd | Tree Jade Co Ltd |
| Enterpreneur Amirkhanov | MEI PEARL CO., INC. | TSUNODA SEIBEE SHOTEN CO.,LTD. |
| Enterprise Lithuania | METCASH EXPORT SERVICES PTY LTD | TUCANO SRL |
| EVANS VANODINE INTERNATIONAL PLC | Micro Science Tech Co., Ltd. | Tumar Art Group |
| Faizi Istiklol-2011 LLC | mikihouse | UCHIKI CO., LTD. |
| FALC S.P.A | MINE PEARL | UES MAKİNA TEKSTİL İNŞAAT VE GIDA SANAYİ VE TİCARET LİMİTED ŞİRKETİ |
| Fanaza Limited | Ministry ofTextile Industry of Turkmenistan | UNIJEJU CO.,LTD. |
| FARMEC S.A. | mir industry | UNILEVER ASIA PTE LTD |
| FASHIN HOUSE MATERIA LTD | Misr Rotogravure | UNO Parks |
| Fast key international (germany)ltd | MITO GLOBAL CO.,LTD | Vacu Vin Innovations Limited |
| FIORIBELLI S.R.L | MIYAZU Co.,Ltd. | Vahdat LLC |
| FIVE OCEAN CO.,LTD | Miyuki Co.,Ltd. | Vanuatu Expo Committee |
| Flexpower AWS | MNAC Co.,LTD | VGSKIN PTY LTD |
| FOAM ON DEMAND | MODA LLC | Victorinox Hongkong Limited |
| Fondation Fatou Sylla | MODO EYEWEAR S.R.L | Viper Leather |
| Fondation Rambourg Tunisie | MOISEIKIN | Visan industrias zootechnicas SL |
| FORMITALIA GROUP SPA | MOLZA Corporation | VIVLAS Co.,Ltd. |
| FREAKS | Momentum factory Orii CO.,Ltd. | Warmipura Arte Exportaciones S.A.C |
| Frigerio Luigi di Colombo Francesco | Morita Shikki Co. Ltd. | Wave Corporation Company, Limited |
| FUJII | MOTİF KUYUMCULUK SAN. VE TİC. A. Ş. | Weleda AG |
| FUJISHINKOU CO.,LTD | MTG Co. Ltd | WILLSON CO.,LTD |
| Fuling Plastic USA Inc. | MUSH- ABAL RESOURCES LIMITED | WOOL PRODUCTS AUSTRALIA PTY LTD |
| Fur Canada | NAGAE Ltd. | WUNDER GEIST |
| FURECO S.R.L | NAIGAI Co.,Ltd. | X Jewellery A/S |
| G.S.T. SRL –GRUPPO SVILUPPO TESSILE | Nanairoya co., ltd | Yak & Yeti Enterprises(P)Ltd |
| Gallery AM | NANNINI ITALIAN QUALITY S.R.L. | Yamanaka Lacquerware Cooperative Association Overseas market sales channel development committee |
| Gallery Exclusive | Naterra International, Inc. | Yantarnui Yuvelirprom JSC |
| Gènavant | Nativebliss Australia Pty Ltd | Yasmina Garments |
| Georgian Jewelry House "Marilisi" | Nature's beauty (NZ) limited | YD international |
| Gepherrini MC | Natures Organics Pty Ltd | YKS |
| GIBEST | NERI ROMUALD SRL | YMR |
| GIENNE DI MACELLARI DANIELE - Giovanna Nicolai | New Zealand Comfort Group Limited | YOSHIKAWA CORPORATION. |
| GINCHO IND. CO., LTD. | NICO S.R.L | YOSHIMARU CO.,LTD |
| Glaskoch B. KOCH JR. GMBH + Co. KG | NIHON YOSHOKKI Co.,Ltd. | YUAN' International PTY LTD |
| Global Product Planning Co.,Ltd | Niigata Industrial Creation Organization | YUMESHOKUNIN Co., Ltd. |
| GLOBOTEX SRL | Nikken Cutlery.Co.,Ltd | Zarapxana LTD |
| GOLDEN NIGHT SRL | NIKKO Co.,Ltd. | ZUVIN |
| GREEN FIELD Co.,Ltd. | Nile Flowers for Handcrafts | ウライ株式会社 |
| Greenzone Co., Ltd | Nile linen group | 力ケソテストセンター |
| GRIP POWER TECH CO., | Nishikimi Chuzo Co.,Ltd. | 浅野撚糸株式会社 |
| GTS GLOBAL CO., LTD. | NISHIMURA PEARL CULTIVATE CO.,LTD. | 群马县政府 |
| Guyana Office for Investment | Nizona Corporation | 日翔株式会社 |
| HALTI OY | N-LINE CORP | 王子石鹼株式会社 |
| Hanajirushi Institute of Cosmetics | Nord Mason Co., Ltd | 新居田物产株式会社 |
| HANBIT KOREA.co.,Ltd. | NORTHLAND Gmbh | 有限会社ナカモリ |
| Handknots Nepal Pvt Ltd | NOVA GROUP PTY LTD | 有限会社日穂商事 |
| Happyland Corporation Co.,Ltd. | Novaya Khimiya LLC | 远急日本株式会社 |
| HASHIZUME CO.,LTD | Nu-net commerce | 楽達コーポレーション株式会社 |
| HATTORI PAPER MFG.Co.,Ltd. | nyduss e&m | 株式会社キングジム |
| HAVIL | Odajima | 株式会社コクーンラボ |
| Hayakawa Silver Corporation. | OFFICINA DEL MUGELLO S.R.L. | 株式会社シノジャパン |
| HAYASHI CO.,LTD. | OFIR S.R.L | 株式会社スエヒロ産業 |
| HAYON Co.,Ltd | Ogoshikougeihinseizou,co,ltd | 株式会社タイム ワ一ルド |
| Healthy Breath Limited | Ohkubo Corporation | 株式会社ビューティフルエンジェル |
| HELIOS CO., LTD | Okabe Yoshokki Co.,Ltd. | 株式会社フットジョイジャパン |
| Henkel AG & Co. KGaA | Okadaya shikki co., ltd. | 株式会社マルゼキ |
| Heritage Home Group,LLC | Omniteksas | 株式会社ワタナベ |
| HERMET | Open Fabrics Company LLC | 株式会社彩華生活 |
| Hima Textile LLC | OPEN-Clothes Inc. | 株式会社青粒 |
| HOLMES PRODUCTION LIMITED | ORKLA | 株式会社宇津木产业 |