News Center

Sixth CIIE holds first global promotional event in Hong Kong Release date: 2023-03-10
Source:China International Import Expo Bureau
A promotional conference of the sixth China International Import Expo was held on March 8 in Hong Kong, which marked the beginning of a worldwide promotion campaign of the sixth expo.
The event was attended by members of many trade organizations, industrial associations, and chambers of commerce in Hong Kong, including the Hong Kong Trade Development Council (HKTDC) and the Chinese General Chamber of Commerce.
During the conference, staff members from the CIIE Bureau gave a briefing about achievements the expo has made during the past five years and presented information about the sixth CIIE, which will take place in Shanghai this November.
Sun Chenghai, deputy director-general of the CIIE Bureau, said at the event that Hong Kong has been an important participant in every edition of the expo and the number of Hong Kong exhibitors and exhibition space they occupied were ranked top among all regions.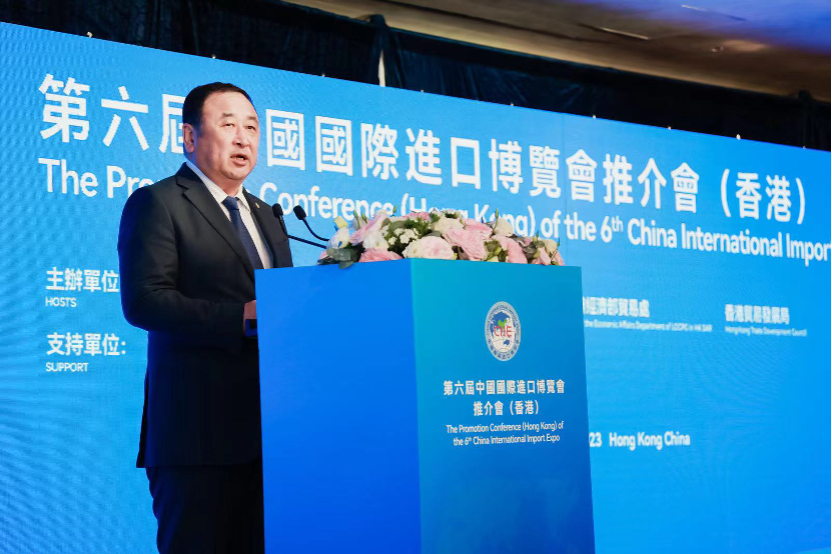 Sun Chenghai, deputy director-general of the CIIE Bureau, delivers an address at the conference. [Photo/CIIE Bureau]
Sun said that more enterprises from Hong Kong are welcome to participate in the expo to showcase their products, technologies, and services.
He also stressed that the organizers of the CIIE will continue to provide more support and create more business opportunities for Hong Kong enterprises.
The CIIE is an important platform that allows Hong Kong enterprises to leverage their strengths in financial services to help enterprises in the Chinese mainland go global, said Liu Yajun, an official of the Liaison Office of the Central People's Government in the Hong Kong Special Administrative Region.
Stephen Liang, assistant executive director of the HKTDC, said that the council has organized the Hong Kong pavilion in the CIIE for five years, through which it has helped bring Hong Kong's global trade resources, goods, and professional services to the Chinese mainland.
During the event, a number of organizations and enterprises in Hong Kong, including Fung Group and the Hong Kong Tourism Board, signed agreements to attend the sixth CIIE and booked an exhibition area of over 6,000 square meters.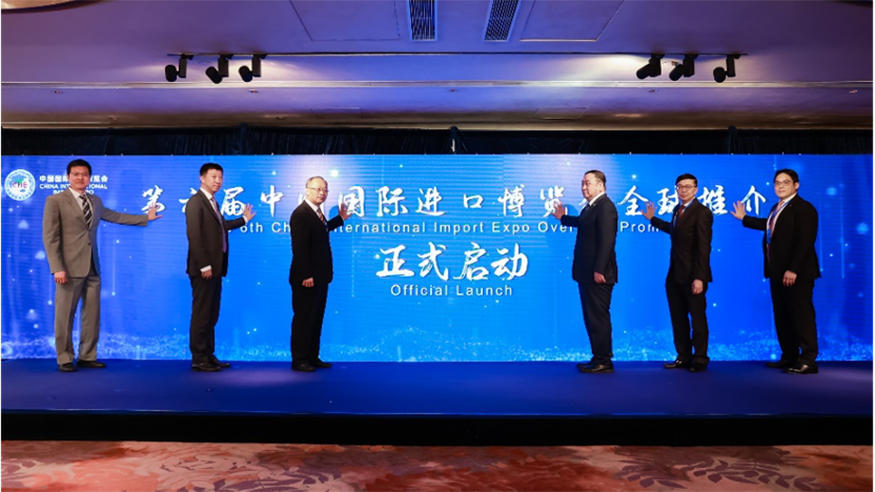 A launch ceremony of the overall promotion for the sixth CIIE is held at the conference. [Photo/CIIE Bureau]
By Zhao Guangmei
---