News Center

Macao enterprises welcomed to explore opportunities at 6th CIIE Release date: 2023-03-15
Source:China International Import Expo Bureau
A promotional conference for the sixth China International Import Expo was held in Macao on March 10.
A part of the worldwide promotional campaign for the sixth CIIE, which will be held in Shanghai from Nov 5 to 10, the event was attended by representatives of more than 100 enterprises in Macao, including Pek Lek Group and Macao Yeng Kee Bakery.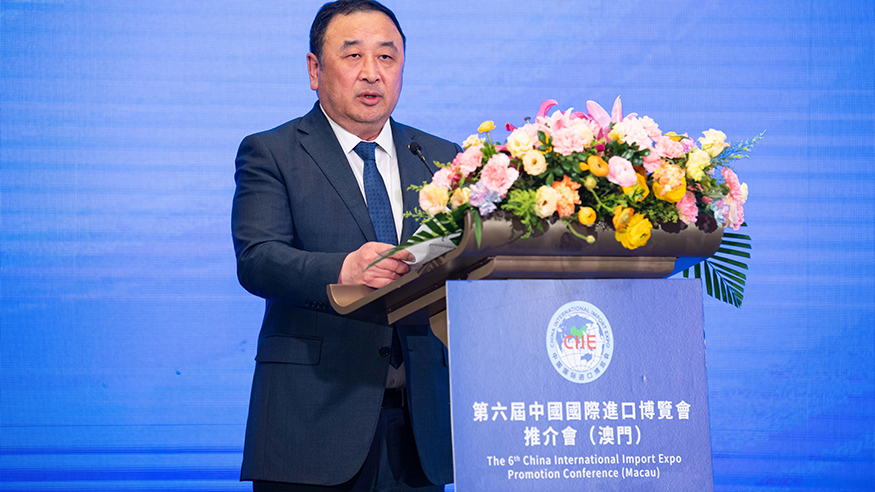 Sun Chenghai, deputy director-general of the CIIE Bureau, delivers an address at the event. [Photo/CIIE Bureau]
During the conference, Sun Chenghai, deputy director-general of the CIIE Bureau, said that Macao has a long history of opening-up and its local catering and cultural services have been especially popular with consumers in the Chinese mainland.
Sun expressed hope that more enterprises from Macao can participate in the expo to accelerate their entry into the mainland market and gain more benefits.
Macao enterprises have reaped fruitful results at every edition of the CIIE, said Vincent U U Sang, president of the Macao Trade and Investment Promotion Institute.
U pointed out that Macao will continue to participate in this year's expo and leverage its strengths in language, free trade and tariffs to attract more enterprises from Portuguese-speaking nations and the Association of Southeast Asian Nations to attend the CIIE.
Zhang Peiran, vice-president of Nam Kwong (Group) Company Limited, which has participated in the CIIE as a purchaser for five consecutive years, shared the company's experiences at the expo during the conference.
By Zhao Guangmei
---