News Center

6th CIIE welcomes more Indonesian enterprises Release date: 2023-06-01
Source:China International Import Expo Bureau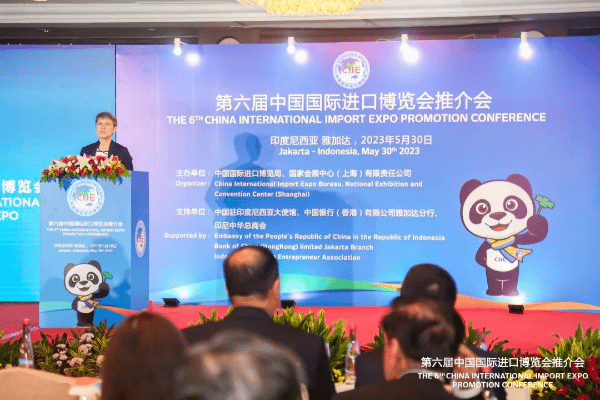 Representatives deliver speeches during the promotional event. [Photo/CIIE Bureau]
Indonesian companies are welcome to bring more quality products and services to Chinese consumers by joining the China International Import Expo, said an official from the National Exhibition and Convention Center (Shanghai), the venue for the annual expo, in Jakarta, Indonesia on local time May 30.
The remarks were made by Ning Feng, president of NECC (Shanghai) during a promotional conference for the sixth CIIE in the Southeast Asian country.
The event was attended by more than 100 representatives from Indonesian industry and commerce communities.
Ning said that over 100 Indonesian companies participated in the previous five editions of the expo and occupied nearly 10,000 square meters of exhibition area. Indonesian products such as coffee, bird's nests, and palm oil have proved popular at the CIIE, he added.
Shi Ziming, minister counselor of the Chinese embassy in Indonesia, expressed hope that Indonesian companies, especially those micro, small and medium-sized enterprises, can leverage the CIIE to showcase their products and image, exchange technologies and information, and explore the Chinese and global markets.
According to Shi, China has been Indonesia's largest trading partner for 10 consecutive years. In 2022, bilateral trade between the two countries reached nearly $150 billion, an increase of about 20 percent year-on-year.
Well-known Indonesian companies, brands, tourism resources, and cultural customs are increasingly being recognized and favored by more and more Chinese businesses and consumers, according to Zhang Jinxiong, chairman of the Indonesian Chinese Entrepreneur Association (ICEA).
He said that the ICEA will take measures to promote the CIIE and participate in this year's expo with high-quality Indonesian enterprises.
By Zhao Guangmei

---