One-year Countdown Ceremony of the First China International Import Expo Held in Beijing and Shanghai Simultaneously Release date:2017-11-06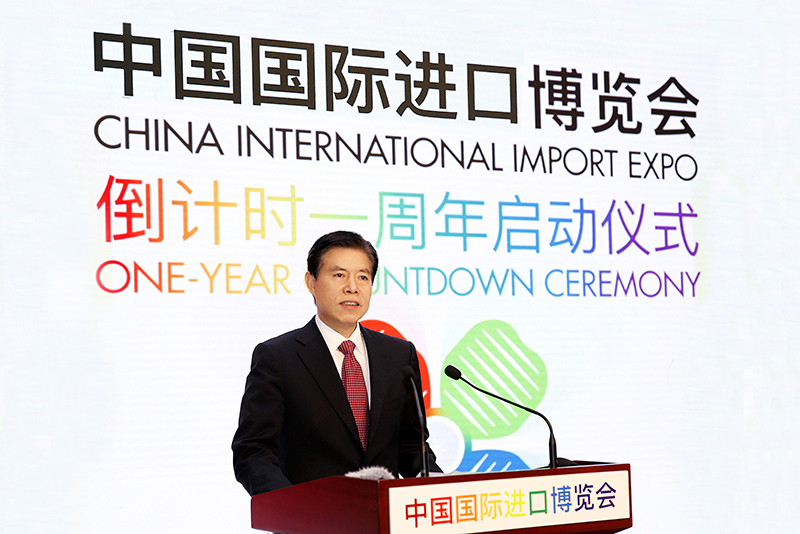 On November 5, the one-year countdown ceremony of the First China International Import Expo was held in Beijing and Shanghai simultaneously. Minister of Commerce Zhong Shan attended the ceremony in Beijing and made a speech. More than 50 people attended the ceremony and they were Vice Minister of Commerce Wang Shouwen, Wang Bingnan, representatives of the first preparation committee, departments and bureaus of MOFCOM, public institutions of MOFCOM and officials from the chamber of import and export trade.
Minister Zhong Shan pointed out in his speech that the China International Import Expo is a significant decision to further promote a new round of high-level opening up as well as a major action to proactively open Chinese market to the outside world. This shows our confidence and determination to open up to the outside world, which has won high praise and warm response from the international society.
Zhong stressed that according to President Xi Jinping's request, the new era needs a new look as well as new accomplishments. We must earnestly implement the spirit of the 19th CPC National Congress, take President Xi Jinping's socialism with Chinese characteristics for a new era as our guidance and do the preparatory work well in the spirit of nail driving and rich energy to ensure the fruitful achievements in the First China International Import Expo. Under the strong leadership of CPC, the concerted efforts of departments and the support of all sectors of society and the media from home and abroad, we have faith and determination to hold a world-class China International Import Expo and make bigger contribution to the opening up in the new era.
On the same day, Shanghai Municipal People's Government held the one-year countdown ceremony in the National Exhibition and Convention Center (NECC) Shanghai. Deputy Party Secretary and Mayor of Shanghai Ying Yong attended the ceremony and made a speech. Executive vice-mayor of Shanghai Zhou Bo and the relevant officials attended the ceremony.
The First China International Import Expo will be held in NECC on November 5-10, 2018, and the exhibition areas reach 240,000 square meters including the country pavilion for trade and investment and the enterprise & business exhibition. During the Expo the First Hongqiao International Trade Forum will be held.
source: MOFCOM