Service

Taxi
Shanghai Taxis
Taxis in Shanghai are plentiful and market competition has driven taxi fare down to affordable prices for the average resident (¥14(¥18 after 11pm)for the first 3 kilometers).
Taking a taxi is a fast and convenient way to get around Shanghai. The city, has the best-managed taxi service in China.
Shanghai Taxi Fare



0~3 KM

3~15 KM

Above 15 KM

Daytime: (5:00~23:00)

RMB 14

RMB 16
(Touran Taxi)

RMB 2.5 / KM

RMB 3.6 / KM

Night: (23:00~5:00)

RMB 18

RMB 21
(Touran Taxi)

RMB 3.1 / KM

RMB 4.7 / KM

*5 minutes waiting equals to one kilometer in charging
Shanghai Booking Call
In this market, Dazhong Taxi Company (with turquoise cars), Qiangsheng Taxi Company (with yellow cars), Jinjiang Taxi Company (with white cars), Ba-Shi Taxi Company (with Green cars) and Nong Gong Shang Taxi Company (with blue cars) are the main taxi companies.
Besides flagging down a cab on the street, you can also book a car by phone. There is no service fee for phone bookings except Dazhong company, which charges 4 yuan for each telephone or online reservation. The taxi hotline is, 96965 and English is available.
Shanghai Taxi Dispatch Information Service Center Hotline: 96965
Main Taxi Corp.

Taxi Booking Call

Complaints Call

Qiangsheng

+86-21-62580000

+86-21-62581234

Dazhong

+86-21-96822

+86-21-62580780

Jinjiang

+86-21-96961

+86-21-64169292

Ba-Shi

+86-21-96840

800-820-84000
+86-21-64312788
How to read a taxi receipt?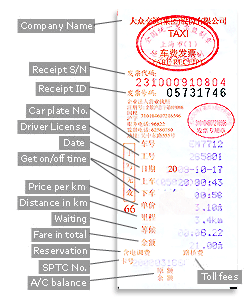 Tips
● As mentioned, you may find cabs scarce in rush hours and on rainy days. Taxi call centers will also become too busy to reach in these situations. Your best bet is probably to head for places taxis haunt, such as restaurants. Although taxis don't often park outside restaurants, many people go there by taxi. If you are quick enough, you can jump in as other passengers get out.
● Don't try to hail a cab at a crossroads, as taxi drivers cannot stop their cars within 30 meters from an intersection to pick up passengers.
● Cabbies in Shanghai are also not allowed to take a tip. Most of them are amicable, but their English is limited. So it's best to get someone to write down your destination in Chinese.
● Remember to take the receipt. The slip will contain information on the taxi, including its plate number and the taxi company. In case you leave something in the car, the receipt will give you clues to find it.
● "Juzai" ( 拒载 ) is not a technical term, but the Chinese phrase is only used in the taxi industry. It means cabbies refuse to drive passengers to the destination they want. In Shanghai , taxi drivers are not allowed to do so for any reason, once the passenger is in the car. Although "juzai" rarely happens nowadays, we think you'd better know something about this.
● In case you come across a "juzai" or some other unhappy experience with a taxi, you can complain to the local taxi authority by dialing 962000.
● All the city's taxis are compatible with the Public Transportation Card. If a driver refuses to accept the card, you have the right to decline payment.